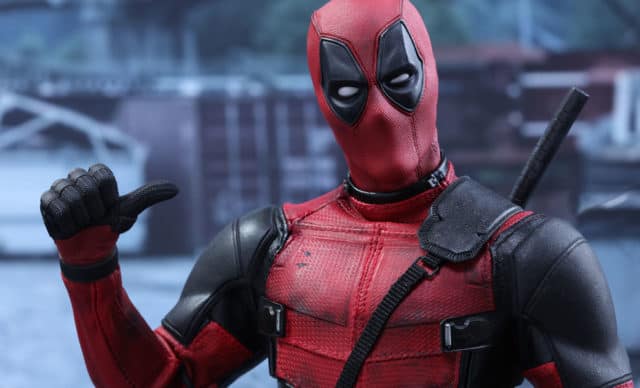 Mouthy mercenary Deadpool just doesn't know when to quit it. And that's exactly why we love him. We've been waiting for something official to come about with Deadpool 2, and we finally get a first glimpse into the ridiculousness of our favorite foul-mouthed superhero. But before the actual trailer even starts, we are welcomed by an introduction that we soon realize is Deadpool himself. At first it sounded like any general voice over, but as soon as the foul language came out, we knew Deadpool was up to something. It's hilarious and very characteristic of the guy.
On the trailer, we see Ryan Reynolds as Wade Wilson come upon a man being bullied by another, and Deadpool knows that trouble is up. He goes on saying that nothing was going to happen to this man on his watch. So he runs to find a place to change in, finds an old photo booth, gets inside, and proceeds to get changed. The rest of the trailer is pretty much a shot of his behind as he tries to get his costume on. With the tightness of the space and tightness of his outfit and a random phone call, he finally gets out only after hearing two gunshots. We already know what to expect, and we're sure he does too. By the time he gets back to the man, he's dead and bloody on the ground. Deadpool is comically apologetic, and we're left laughing our brains off.
After the trailer, we also take a sneak peek into two new characters that will be joining Deadpool in the sequel. Josh Brolin looks perfect jacked up to play Deadpool's powerful future partner Cable, the daughter of Cyclops and Madelyne Pryor. We're ready to see him eliminate bad guys, but for now, it looks like he'll be butting heads with Deadpool. Whether we'll see them become friends in Deadpool 2 or not only time will tell. Domino will be featured in the film as well. Played by actress Zazie Beetz, Domino looks like she'll be donning a different look than in the comic books. The usual dark tattoo around her left eye is now a light skin discoloration around the eye. She also seems to have two different eye colors. Surely, we'll get to hear more about her story when the movie comes out.
The success of the first Deadpool was unprecedented with only a $58 million dollar budget. We had no doubt that we were going to see Deadpool again. We know that some of the characters from the first movie are going to be back for the sequel, but there's no official list just yet. The release date for the film has been confirmed as June 1, 2018. It's going to be a long wait for next summer to come, but at least we've got this trailer to hold us over for now. We're expecting more of these to come as the release date gets closer, and maybe next time we'll see Cable in action.
Tell us what's wrong with this post? How could we improve it? :)
Let us improve this post!