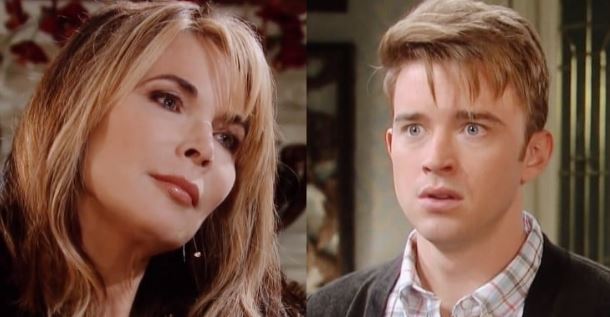 Days of Our Lives fans know a thing or two about romance, and that kind of romance is the kind that sometimes makes it to the real world. It doesn't always stay on the set, and that's one of those things that really does make fans feel a little bit excited. While this is not to say that your favorite on-screen couples made it work in real life, but sometimes the people who work together also find love together. These Days of Our Lives stars may not have found love with one another on screen at all, for long, or even worked together on the same show at the same time, but they did find love — even if it was temporary — on the show at some point or another.
Chloe and Shawn
While they were never a couple in Salem, they were a couple in the real world. They worked together for some time, but they ended up dating as a result of their chemistry. The writers didn't take that to the screen to make it a thing for them, but Brandon Beemer and Nadia Bjorlin were able to make some of their own real life romance work for them. They got together sometime in 2007 and dated for a staggering 7 years before they ended things with one another in 2013. They didn't work out, but they did find a way to make things work for their characters so that they could at least stay on the show together. They worked together well enough you didn't realize that they'd ended things. Maybe it was the long days filming together, the lack of personal time, or something else entirely. Whatever it was, it didn't work for them in the real world.
Melanie and Chad
Okay, so this is one of those things that didn't work out very long, but Casey Deidrick and Molly Burnett did have a thing on the show as well. She was the elusive Melanie Jonas, and he was once Chad DiMera before he left the show and a new actor came in to play the role. They had a thing at one time with their characters, but it did not last long. They were simply young people who had a thing for a moment, but he was also so into either Gabi or Abigail or a few other minor fling situations in between that no one ever seemed to remember him having such a quick thing with her. Either way, it did not work for their characters when they were going through their phase, and it didn't work for them for the year they dated. They met at work and then began dating the same year, which was 2009. They ended their relationship a year later. We don't know why or if there were any ill feelings or anything like that.
Brady and Nicole
They had more than their fair share of love with one another on the screen, off the screen, and everywhere in between. When Arianne Zucker and former Brady actor Kyle Lowder were together on the show, they were also together in real life. They actually made it work in real life enough to actually get married. They tied the knot back in 2002, but their real marriage took a bit of a cue from their on-screen love life, too. They ended up breaking up some five years into their marriage in 2007, but they ended up reconnecting and deciding to give their marriage another shot a year later in 2008. They managed to work that out long enough to have a baby in 2009, but that didn't save their marriage entirely. They ended up calling it quits for good back in 2014. Their daughter was born in late 2009, and her name is Isabella. Their characters ended up getting back together once or twice over the years, but it was already too late for her. She was no longer hooking up on screen with her ex-husband after he left the show and a new Brady was on the scene. She was with him at that point, and maybe some of that had to do with their failed marriage. We can't say certainly.