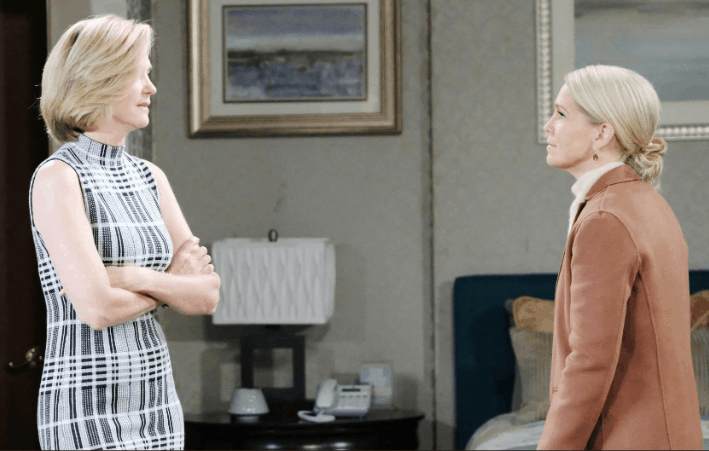 Days of Our Lives fans are rounding out the week with some big changes to some minor situations, and vice versa. Recapping the week is simple. It was very emotional for Lani and Rafe as they made some realizations, and they cemented their friendship in a way that will never allow them to be broken. They both love this little boy, and they both realize that he is not theirs to keep. They don't have any desire to be together or anything of that nature, but they are close friends who want to do anything they can to protect one another. It's a situation we cannot seem to make realistic in our situation, but it's not one we can ignore in any other capacity. On the flip side, we know that there are some romantic situations that are not ideal. Xander is going out of his own way to ensure that there is something there for him and for Sarah, though it's not a good match.
Hope still sees Ted in a way that she should not. He's a bad man, and he is much to blame for the way her own life is going these days. Gabi and Stefan don't seem to care that Chloe is not in a good place or that they've done any of this to her recently. Eve and Jennifer are at it again, and that's not a change from anything else they've been up to recently. They hate one another, and they want to make the other miserable for sheer sport, and it's frustrating and upsetting and not a good thing. But, that's all there is to it. They cannot get over it. Ben is, once again, in a place where he is not going to find himself well, and that's his problem regularly.
What's Happening on Days of Our Lives
It's a pizza party on the #DAYS set. 🍕 | 📷: @marybeth_evans1 pic.twitter.com/O1dDZv7n7G

— Days of our Lives (@DaysPeacock) June 12, 2019
We love pizza parties with friends.
What's Next on Days of Our Lives
Soak up the Summer Days. Watch #DAYS, weekdays on NBC. pic.twitter.com/IBHxJcIiQv

— Days of our Lives (@nbcdays) June 5, 2019
Ted is going to say something to Nicole that will shock her, but she's not Nicole so how much can he really shock her? She's Kristen, and she's not going to be super shocked by the things that he has to say when she's wearing the face of a woman who is alive but locked away elsewhere while she tries to live her life. It cannot be that shocking, if you want the honest truth. But, for now, we have to say that we think things will turn a bit interesting before the weekend. Haley and JJ are going to have a rough day, too. She's about to end up back in China now that her deportation situation is a real one, and it's not going to work well for her. She's not going to be happy about this, and she's not going to find it's easy to move on from it. Her situation is dire, and their goodbye will be emotional. Get the tissues ready.
Xander is going to find that people want to know the truth. They have some questions about the diary that Rolf kept, and he's going to find himself in the middle of a situation where Sarah, Brady, and Maggie are all over him about it. He's trying to make Sarah fall for him because he's got some feelings for her, and this is not going to make things very easy on him. What will he do, and how will he work this out in his own favor? She's going to put him in a horrible situation, and it's not going to work well.
Stay tuned for more Days of Our Lives and be sure to check out TVOvermind daily for the latest Days of Our Lives spoilers, news, and updates.
Tell us what's wrong with this post? How could we improve it? :)
Let us improve this post!