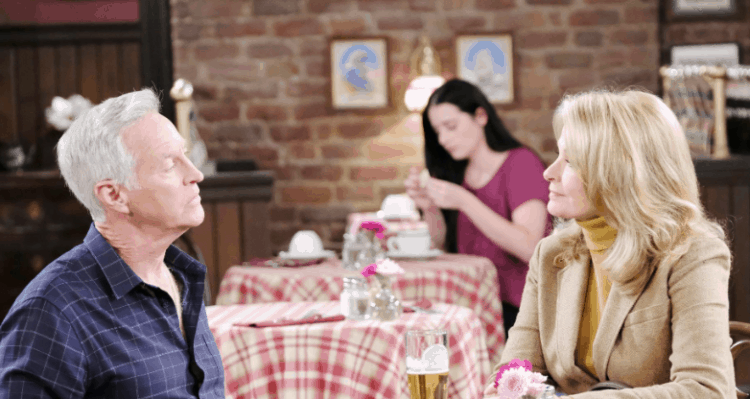 Days of Our Lives fans are not impressed with so many things from last week. For one, we are all in a place where we just want to see things work for Jennifer. Her life has been a mess for so long. Now she's here dealing with everything by herself. Her daughter and grandchildren are gone — though they did leave so that they could focus on their family and do better things, which is good. She's okay with that, really. But then there is her husband. She mourned his death years ago with all she had, and now he's back and bigger than ever, and she's not all that happy about it. She's not all that amused that he is alive and well and not dead because he's not his kind, typical self. He doesn't know who he is or have any memory, and he is not a nice man. He's running for mayor as of this last week, and she's horrified.
He's using their son's special friend, Haley, to gain his way into the political world, and Jenn is not amused. She's horrified by his behavior, by the things that he is doing, and by so much more than that. He is not a man who wants to spend his life doing what she wants him to do, but he is a man who will take Eve's advice anytime it's offered. It's a little gross, and we just are not fans of what he has to say to her. But we want to see this get better. Marlena and Leo both found out about John, things are getting ugly, and everyone is a mess right now. This week will be interesting with all that happened last week, which is why we needed to touch on a few of the big things that happened last week.
What's Happening on Days of Our Lives
https://twitter.com/nbcdays/status/1104109587584684032?ref_src=twsrc%5Etfw
It was a good day, wasn't it?
What's Next on Days of Our Lives
To come between John and Marlena, Diana carries out a deadly plan. Watch Days of our Lives, weekdays on NBC. #DAYS pic.twitter.com/mmKFF7dEH7

— Days of our Lives (@nbcdays) March 8, 2019
Things are not going to go the way anyone would love to see them go in the next week, but that's the general rule around here at this point. We will probably see things take a major turn for Haley when Jack begins to try to use Tripp to get to him. Since Tripp is doing whatever he can to get to the bottom of what's going on with Claire right now, he's not on his A-game, and he might not notice he's being used at this point in time. Things are confusing for everyone, but he is going to end up on the wrong side of what Jack wants, which is very much going to upset JJ. And then there is the fac that things will take a turn for Brady when he learns that he has a new brother — Leo — and he is not amused by that in the very least.
But, this could end up being very good news for Sonny since now there is some relation there. And that might be something that works well for him being able to end his marriage to Leo. Will he be able to say it was on the grounds of fraud in some stretch of the imagination? We don't know if he can make it happen, but we think we can see it happening a bit more around here now than we could a few weeks ago when he was looking for anything to help him out.
Stay tuned for more Days of Our Lives and be sure to check out TVOvermind daily for the latest Days of Our Lives spoilers, news, and updates.