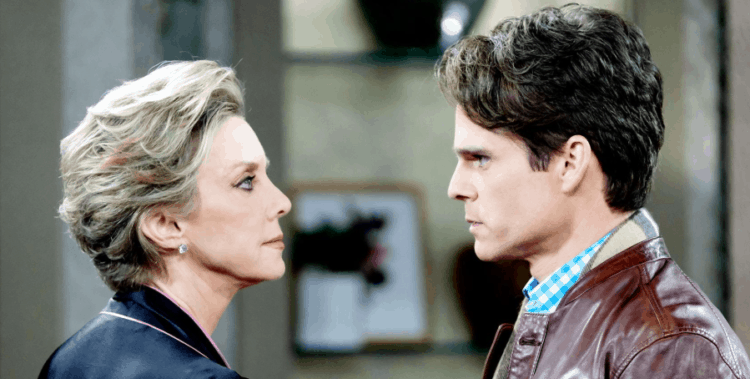 Days of Our Lives fans know that Rafe has managed to find Kate, and he's working to make sure she's all right. She's been handled by Jordan, and it's all because she came a little bit too close to the truth when it pertained to making things right with Ciara and Charlotte. She's working so hard to make sure these lives are miserable all for her own gain, and her own brother is the one struggling the most with this. He's hiding evidence, he's working on his own, and he is all but begging for Chad to believe he is innocent and that he had nothing to do with all of this. It's hard for him to understand that things are not working in his favor, and that's a big deal. He wants to have her back, and he wants things to work in his favor — but no one believes that he didn't do this.
There's a lot of stuff going on with Chad and Abigail, too. They cannot find their new daughter, and they are struggling with all of this and all that it means to them. They want their daughter back, but they don't know how to get her back. They aren't sure what to do, how to do it, or what it will mean for them when they are in the middle of a situation like this. They are looking for her to no avail, and they don't know what will happen. We are all wondering if there is anything that will help them leave the show in the middle of this situation. With them exiting the show soon, we wonder if one or all of them will die, or if they will find their baby and take their family out of Salem once and for all to find happiness.
What's Happening on Days of Our Lives
Can you feel the love? #DAYS

📷: @kristianalfonso pic.twitter.com/SUlvL7TAPr

— Days of our Lives (@DaysPeacock) February 7, 2019
We feel it, and we hope you do, too. This is a fun day for so many, and this is all kinds of love we love to see.
What's Next on Days of Our Lives
The most romantic week of the year. Get ready to be swept off your feet. Watch #DAYS, weekdays on NBC. pic.twitter.com/LiJof4pj8I

— Days of our Lives (@nbcdays) February 8, 2019
Ben is beyond desperate, and he has to make sure Chad knows that he did not do this. This entire kidnapping situation is not on him. He is not the person who is doing this, and he needs Chad's help. Chad was the one who asked for Ben's help kidnapping his own wife, and he knows that this is not a good thing, but he should do something for Ben to pay him back. And we just don't know that he will. We aren't sure that Chad will believe him, but Ben is going to go out of his way to make sure that he knows that he didn't do this. He will continue to ask Chad for his help. He knows what he has to do to find the daughter that Chad is missing and the woman Ben loves, but he needs his help. Abby won't like it, though, and that is what's holding him back.
These two need him, and we hope that Ben can convince him to do this. It's the most romantic day of the year, and we'd like to see these two reunited. We'd also like to see this sweet baby home with her family so she can live happily ever after. But we just are not certain it will work out that way for them. But, we can hope, and we can hope that either Kate can provide Rafe with the information she has so he can rescue them, or that Ben can convince Chad to help him. Either way, we just need more from them.
Stay tuned for more Days of Our Lives and be sure to check out TVOvermind daily for the latest Days of Our Lives spoilers, news, and updates.