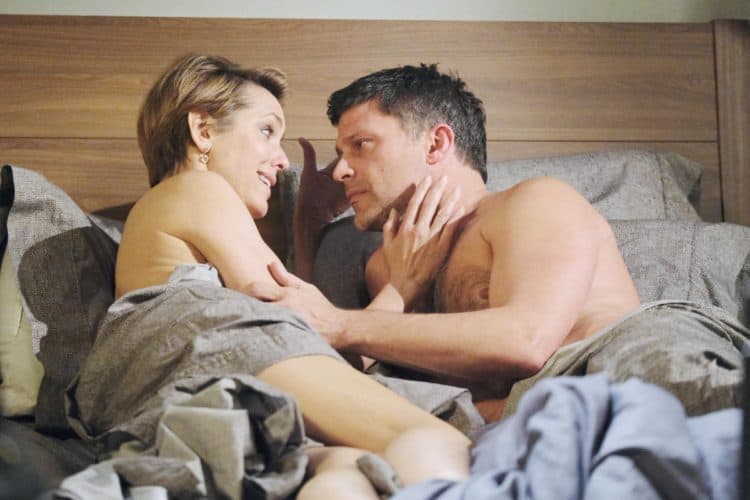 Days of Our Lives fans rarely go into a Monday without needing a refresher course on what happened the week before. It's hard to get into what is going on in a new week when you're still trying to piece together what happened to the one before. It's been a long week, and we are still struggling with the things that happened. For one, we know that Kristin wants to destroy Nicole and Eric as best she can, so she's making sure she can get the information she needs from Xander about the baby that Sarah is carrying. She's not stupid. She knows this baby must belong to Eric, and she would love to be the one to make this public announcement so that she can watch them suffer the most. Then there is Maggie, who asked her husband why on earth he wanted to try and kill Ben.
Meanwhile, everyone is just shocked about the fact that there is so much happening with Jordan and the baby. She's out, the baby is going to a new place, and so many things are a mess. Meanwhile, Eric and Nicole are just living their best lives with one another, Brady is talking to John about the fact that he cannot seem to stop himself from feeling attracted to the awful Kristin, and we are just sitting here with our mouths on the floor trying to figure this all out. Sarah is heartbroken, and Xander is doing all he can to make her feel as if things will be just fine. Will they? Can they find love with one another? He's a killer and she's not, but she seems do down right now that we almost feel that anything could happen in this moment. Is this true? Will it happen? Can it be?
What's Happening on Days of Our Lives
In the latest #DAYS, Brady makes a confession to John about Kristen.https://t.co/Gv7Weumrvw pic.twitter.com/SM0VgUOpSi

— Days of our Lives (@nbcdays) September 19, 2019
Is everyone all caught up now?
What's Next on Days of Our Lives
Revenge never dies between Vivian and Kate – and now Stefan and Gabi are pulled into the fray. Watch #DAYS, weekdays on @NBC. pic.twitter.com/WhU7Y6qU71

— Days of our Lives (@nbcdays) September 6, 2019
We don't know what might happen around here, but we do know that it will be interesting. There's a lot going on around Salem, and it has to start this week with a question from Will to Gabi. She's not going to know how to answer him, but she has to make a decision. She has to choose something that will work for her, and she has to do it now. He is going to be very blunt with her, and he is going to ask her if there is a chance that her new mother-in-law is the one who tired to kill Kate. She's got to keep this secret for her new husband at his request, but she's not someone who wants to lie to Will. He is, after all, the father of her daughter. And he knows she knows the truth. What will she do?
And what will happen when Kristin tries to change a few things? She's pushed Xander, she's still looking to make things a bigger mess for people, and she is trying to get her way in a few other manners. She's a hot mess who cannot make things work for herself, but what can we do to make things seem better in our world? Can we do anything that brings about some of the best situations in life, or is there nothing we can do for her now? Is there no chance she can change now that things have a chance to work with Brady? We don't know, but we don't like it. At all.
Stay tuned for more Days of Our Lives and be sure to check out TVOvermind daily for the latest Days of Our Lives spoilers, news, and updates.