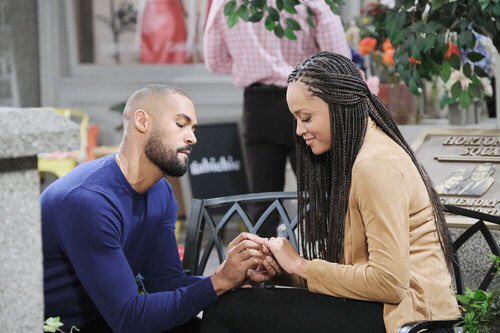 Days of Our Lives fans know that there's so much going on that we don't realize right now, but we do know that Jake is not a man who wants to spend any time with Gabi. He's just not that into her, and she is not handling that so well. He's not a man who is happy with the way things are going in his life, and he'd like her to leave him be. He's rebuffed all of her advances, and she's simply not having any of it. On that note, we also know that Justin did the saddest thing. He visited his late wife at her grave. He talked to her, told her how much he misses her each day, and he asked her for her permission to marry Kayla. The problem is that we don't think he's going to ask her for the right reasons. We think he's asking her because he's locking her down prior to Steve being able to do that for himself.
Eli and Lani are newly engaged, again, and they are living their very best life right now. Except, well, they are not living their very best life right now. They are living a life that is not their best one because they are going to receive some shocking news right now. They are not happy at all about things and how they are going down. They are not thrilled with the way things are progressing and the way that they are moving, and they will be floored. Ciara, on the other hand, is living her life the same way that she's been living it since she and Ben became a couple. She's getting him out of a dangerous situation he shouldn't be in to begin with.
What's Happening on Days of Our Lives
https://twitter.com/kristianalfonso/status/1262937549737037825?ref_src=twsrc%5Etfw
That is so funny.
What's Next on Days of Our Lives
It's a week of great loves as Eric proposes to Nicole, and Steve decides he's going to win back Kayla. Watch #DAYS, weekdays on @NBC. pic.twitter.com/YGpjgGcMNU

— Days of our Lives (@nbcdays) May 22, 2020
It's the end of the week around here, but we all know that really means nothing in the grand scheme of things. We know that there is so much that might go on, but we also know that Steve is going to do all he can to make sure that Kayla is his. He's going to get himself ready to tell her that he'd like to spend the rest of his life with her, and we cannot wait to see all of that happen. We cannot wait to see that all go down, and we are going to wait impatiently for that. But, will he have a chance to tell her? Xander is not happy at all that Brady stabbed him in the back, but we want to know if Xander remembers that one time he took Brady's baby and told him his baby died, gave it to Sarah, and then moved on and pretended that the baby Sarah was raising was her own when it was Brady's. We assume he doesn't, or he wouldn't question Brady's stabbing him in the back.
John is not that happy, either. He's got a moment to speak with Victor, and he's laying into him about what happened. The simple fact that he went out of his way to do this to Brady, to lie and kidnap his baby by exchanging it with a dead baby is too much. No one is happy with Victor right now, but John is beyond furious. Sonny, on the other hand, and Justin have a very important discussion at Adrienne's grave, and it is one that might break some hearts. Justin might be the one whose heart is most broken.
Stay tuned for more Days of Our Lives and be sure to check out TVOvermind daily for the latest Days of Our Lives spoilers, news, and updates.