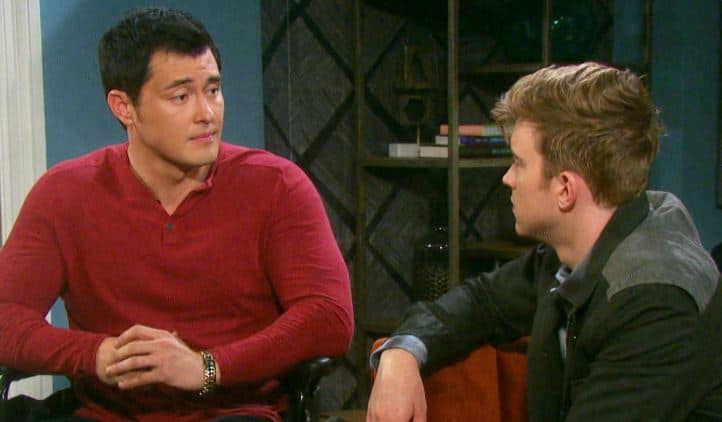 Days of Our Lives fans are all still reeling from last week. Abby had her baby, she's not sure she can ever forgive Chad for what he did to her, and things didn't work out for them in a way that really made a lot of sense. Jennifer wants her daughter and the baby with her, but Stefan wants them with her. JJ took sides with Gabi and allowed this all to work out for a horrible situation in Abby's life, and she feels that she could never trust her own brother again. She's feeling more betrayed than she's ever felt in her life, and things will not work out for her if she cannot get over this. It's ugly right now, and Jennifer has a lot on her plate with her kids, so this will only make things worse. But for now, there is a baby and everyone wants a piece of that baby.
And then there is Kayla. She's working on making things right and caring for everyone in her life, but she's also got her suspicions. Some things aren't adding up for her, and that's not something she can appreciate. She's beginning to suspect that there might be more to this story than anyone might want to deal with, but that's all there is to it. Right now, there is nothing that we can do but listen to her suspicions and hope that things can work out. She's on to things with Gabi, and they have to get this together. She might be the one who fixes everything that worked out so far for Stefan and Gabi, but can she prove what she feels is true? It was just a long week, and now that it's over, people are excited about what might happen this week. Except that we aren't sure.
What's Happening on Days of Our Lives
We have the #DAYS vets to thank for decades of stories!
📸: @JreynoldsJames pic.twitter.com/GrHCQRGS0m

— Days of our Lives (@DaysPeacock) November 16, 2018
When you have fun at work, it's always fun to show it off to your fans. We only get to see them when they fight and have a bad time with one another. And this is a happy surprise on a fun week of celebrations.
What's Next on Days of Our Lives
It's Thanksgiving in Salem, and Gabi drops a bombshell on Abigail. Watch #DAYS, weekdays on NBC. pic.twitter.com/7mPQhFiIay

— Days of our Lives (@nbcdays) November 16, 2018
Things are ugly, and they will not get better this week. Gabi is going to tell Abigail that she's been screwing her over the entire course of her pregnancy, and we are all going to be shocked. But she's doing this with a gleeful personality and a lot of happiness in her heart. She's not feeling at all bad about any of this, and we cannot believe that she is allowing any of this to happen in her life. She's a mess, and we cannot figure out how she feels this is not going to affect her own life in the future. She literally did terrible things to someone that some many people like, and she fully expects that to be a thing that works for her all the time. It's ugly, and we cannot help that.
But, at the same time, we do think that there is a good chance that Abigail might make the same mistake by seeking revenge rather than just focusing on her own family. In the meantime, though, we are going to see Ben do what he can, too. He will tell Ciara all that Tripp's been doing behind her back now that he is aware of the truth of their situation, and that may not go very well, either. There is so much happening here that might not work for them, but we don't know that they can really get things together in another manner if they don't work hard at this one. We are worried for all of them at this point.
Stay tuned for more Days of Our Lives and be sure to check out TVOvermind daily for the latest Days of Our Lives spoilers, news, and updates.