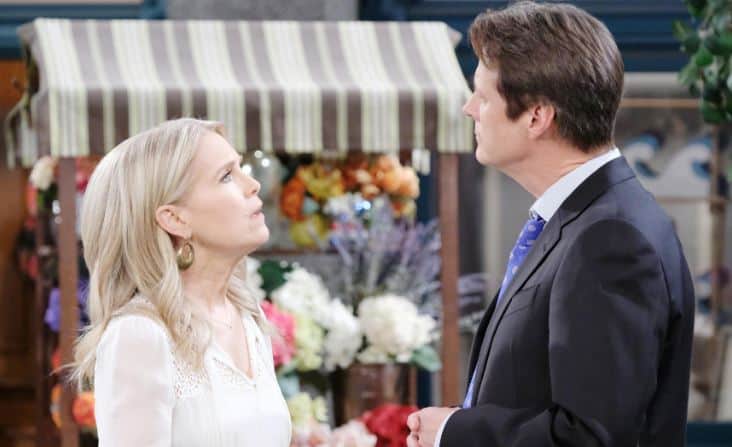 Days of Our Lives fans are not sure how to handle what is going on with Jack. He surprised his son with the news that he is going to take the serum and work on getting his memory back. He's surprised his wife is on board with that, but we all know better. While he is sharing the news with JJ that she is fully in support of all that is going on with this, she is taking the most drastic of drastic measures to ensure that this does not happen, that no one is happy, and that this does not work. We cannot be sure this will work in her favor at all, and we cannot be sure we can see this making a difference in his life. She's working against him, and he has no idea she doesn't want this to happen. Is he truly this naïve? We can't be sure.
Nicole is going to go out of her way to continue to see what she can do to get Brady to fall for her. She's really Kristin, of course, and she's in rare form. She's got some ideas for the company, and she wants to find them for herself. She wants to make things work in her favor, and she wants to share her ideas with Brady for a few reasons. The first is that she's looking to work with him and spend more quality time with him doing anything she can. The second is to put her on his radar. She wants him to notice her, to think positively of her, and to be with her. She's doing all she can, and Gabi and Stefan are behind her back working to take her down. Who will win this fight, and how much are we looking forward to it?
What's Happening on Days of Our Lives
You can help but love these 2 on and off screen – #Days #MaryBethEvans & #stephennichols #PatchIsBack #Stayla #Day154 #100DayChallengePlus @nbcdays @daysofourlives #matchmadeinheaven pic.twitter.com/kz2UXU4m4j

— Trish Kominowski⚓️❤️⏳ (@zumbapet) July 23, 2019
They are always cute. No matter what.
What's Next on Days of Our Lives
The drama heats up in Salem as Rex and Xander go head-to-head, and Jack seeks a divorce. Watch #DAYS, weekdays on @NBC. pic.twitter.com/FdTzZsQY34

— Days of our Lives (@nbcdays) July 19, 2019
Jack is so happy that his wife is in full support of what he is doing. But, that's not the truth. She lied right to his face, and he thought she was being truthful and nice to him. He had no idea that she wasn't in this to win this, and that things are not going the way she wants them to go. There is nothing she will not do to stop him from taking this serum and getting his memory back, and we are about to see him find out that this is what she's up to. She's about to find out that things never work for her, and that's because he is going to catch her in the act of doing something dishonest and against all that she said to him before. Will he react well? We don't think so, but we do think she may end up coming out on top of this one.
Meanwhile, Tripp wants to help Haley, but he's been misguided and has no idea what he is doing, what is going on, and how things are working in her life right now. This will probably cause some much bigger issues than not, and that is not going to make anyone feel happy in the moment. Can he get things back to the way that they were when they were friends helping one another, or will he manage to mess things up for her in a way that she might not be able to forgive in the coming days?
Stay tuned for more Days of Our Lives and be sure to check out TVOvermind daily for the latest Days of Our Lives spoilers, news, and updates.