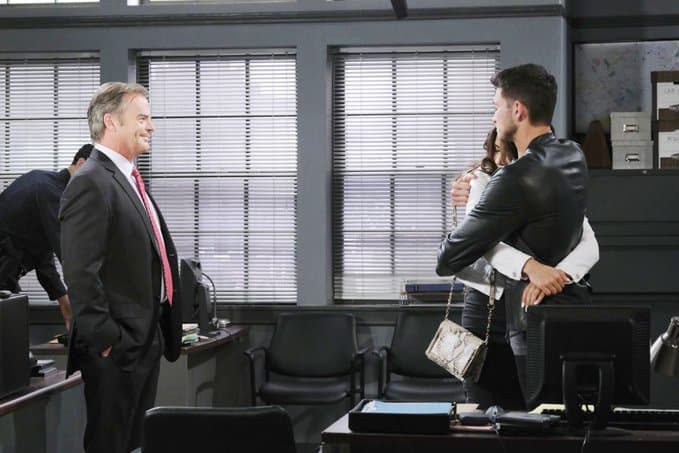 Days of Our Lives fans are oddly encouraged about a lot right now. We know, for example, that there is so much going on with Nicole. She's got so many things to figure out and to learn, and we know that there is not even a remote chance that this is going to be all right for her. However, we also know that she's got a lot going on that we are not all that familiar with. She's shared her thoughts with Abe as she looks to find out if there is more to this. She is not sure if she is going to find the proof that she needs, but she is sure that there is proof somewhere. She's crushed at the thought that she has to hurt the man she loves so much, which is why she has to find the proof to make sure she's not mistaken at all. But, this is not easy for her.
Hope is back, and she's being filled in about her life by Kayla. She's not happy about the way things are going as she learns more about what she did when she was Gina, but there is very little she can do about it right now. She's struggling very hard in her life, but she knows that she has to do things that will work out for her. On the other side of this, her daughter's life is improving significantly. She's gotten her mother back, she's gotten her boyfriend back, and she's found that she is now in a happy place. It's been a very long time for her. It has been very, very hard for her to live this life and to be this person, but we are going to see this through with her. Furthermore, we are curious about what will go down between Hattie and Roman.
What's Happening on Days of Our Lives
In the latest #DAYS, Ben is released from prison and reunites with Ciara! https://t.co/ZsCmioRrzb pic.twitter.com/NiE990h1S4

— Days of our Lives (@nbcdays) March 25, 2020
The single most heartwarming moment.
What's Next on Days of Our Lives
Salem's list of villains just got longer – Orpheus is back! Watch #DAYS, weekdays on @NBC. pic.twitter.com/w4XkEvJaEd

— Days of our Lives (@nbcdays) March 13, 2020
It seems that there is going to be a bit of a situation today on the show as Stefano decides to go big. Very big. He's asking Marlena to marry him, and we cannot decide how this will turn out. She doesn't want to be with him or marry him or spend any of her life or time with him, but she also knows that she has to focus on keeping her family and her friends safe in this time, and that might be the only way to do it. What will she say, and will she have to be intimate with him if she has to say yes to save the lives of those she loves? We just don't know what is going to happen here, but it is certainly not going to end well. Hattie, on the other hand, has a lot more going on in her life. She knows now how Roman feels about her, and she has to make some decisions about her own life. What will she do in her future?
Chad, on the other hand, is still working for his father while trying to hide his mind control from his wife. He's got to get Tony and Kristin to come to a special gathering, and we know it will not end well. Anna and Abigail, however, see that things are not what they seem. They can tell that there is something going on, and that there is an issue with their lives, but how do they do that and how do they finish that one right now? We cannot figure that out.
Stay tuned for more Days of Our Lives and be sure to check out TVOvermind daily for the latest Days of Our Lives spoilers, news, and updates.
Tell us what's wrong with this post? How could we improve it? :)
Let us improve this post!