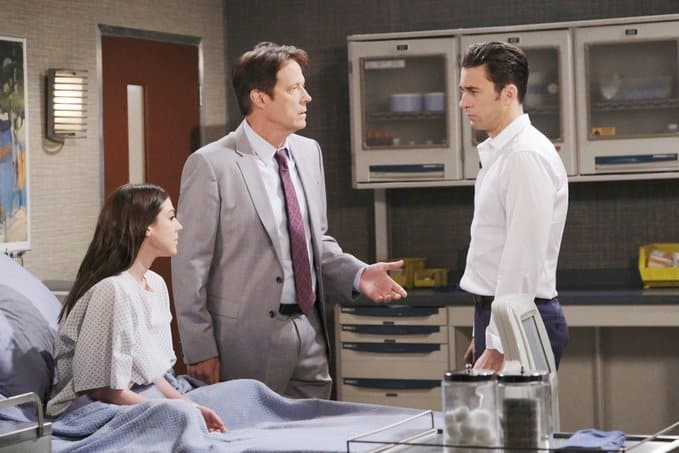 Days of Our Lives fans don't know what is going on right now. Evan has all these secrets and he's telling them to Zoey, but we don't believe him. We just feel that he is a liar and that nothing he says is actually true, even when he makes a big deal about sharing his secrets and sharing what is going on with his life. He's confiding in her knowing that she is obligated to keep his situation to herself, but we have no idea how to take what he has to say. He's saying a lot, but he's not really getting anywhere with anything he is saying. He's going to have a lot of questions to answer in the coming weeks, and that's a problem he has to deal with on his own. Chad is having some issues, too, and they are with Gabi again. She's always a problem for him as far as his wife is concerned, and this a week that's no different from any others.
She's going to find him accusing her of drugging his wife and causing her to have the hallucinations she's having, but we aren't so sure this is the full story. She's going to be annoyed by him, but not so much that she won't go right back to worrying about her own life and the fact that she is just trying to see her dead husband again and again. Steve is not in a good place right now, and he's missing his patch. He and Kayla will share a moment as she is helping him out putting it back on, and that might be a good thing for them. We can't say the same for Justin, but we think that this is going to be a moment that he enjoys in his own life.
What's Happening on Days of Our Lives
And….boom. https://t.co/fCJ2QaB006

— Eric Martsolf (@ericmartsolf) April 25, 2020
This is fun.
What's Next on Days of Our Lives
Gabi sees someone who looks exactly like Stefan… and collapses in the square. Watch #DAYS, weekdays on @NBC. pic.twitter.com/9sq6TaH1mw

— Days of our Lives (@nbcdays) April 24, 2020
Gabi is having a time right now. She feels she's seen a man who is her husband, but her husband is dead. He died a year ago when he was killed by Lani when he jumped in front of his criminal mother. He was declared brain dead and his heart was eventually taken from his body and given to Julie. It's been a whole thing, and we cannot blame Gabi at all for being heartbroken and sad about all of it. But, we can absolutely see how some things might be a problem for her otherwise. For example, the fact that this is now about to be the second time that he did this is a problem for everyone. But, we also know that we don't know. She's going to faint when she feels she sees him again, and it is going to be the change in her life.
Sarah is stunned when she runs into Rex in Paris, and this is going to become a situation. Then, Kristin is going to tell Brady that she is going to confess about all she did to Victor, though we don't think that she should do that. We think she needs to keep her mouth shut and let things go so that she can get their baby back. Ciara is going to stay with Victor and hold a vigil for him as he fights for his life in the hospital, but we feel that he is going to be just fine. We think that he is going to be all right, and that there is not going to be a problem for him.
Stay tuned for more Days of Our Lives and be sure to check out TVOvermind daily for the latest Days of Our Lives spoilers, news, and updates.