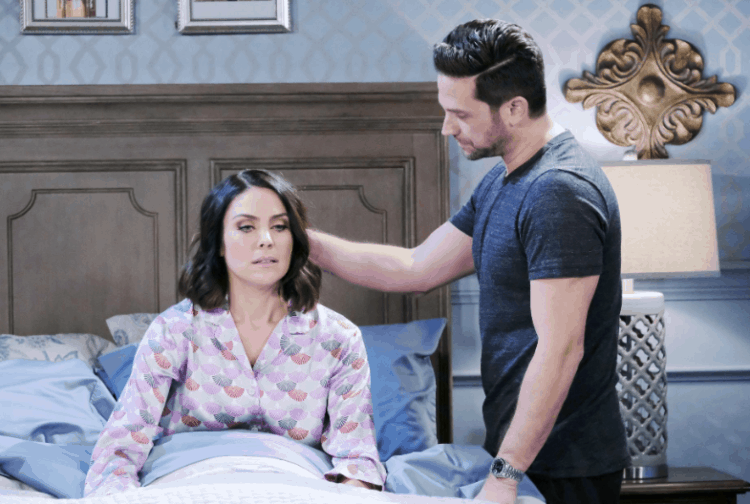 Days of Our Lives fans had a long, sad week last week, and we are glad it's over. That is not to say that the drama and the sadness and the sheer heartache from last week is done, because it is not. However, there is so much going on that we will have to see some more sadness, and the loss of little Holly will be around to haunt us forever. It's a sad situation, and we all felt it when it happened. We know that Nicole is crushed, and she likely wishes she really was dead now, even though she just came back from the dead. She did not get to reunite with her sweet baby girl after she came back because Xander made sure she would not. And Ted was in on it. She's gone now, and she blames so many people — including Eric. And now she's seeking her comfort from Brady, and Xander is not amused. Maggie is close to going down a dark hole by drinking.
Nicole lashed out at Eric, turned to Brady for comfort, and everyone is a mess right now. We have so much that we can say about this, but we just have to sit here and mourn. So many things about this are so awful. Ben and Ciara were forced to bring this news to Chloe when she was seeking comfort in the arms of Stefan, who is cheating on her with Gabi, and actually got caught trying to sneak her out of his home. The entire situation is nothing short of a disaster, and this is something we cannot handle. Everyone is a mess right now, and we know that there is no hope in the world for Rafe and Hope at this point. His decision caused a major issue, and she will never forgive him for it.
What's Happening on Days of Our Lives
https://twitter.com/nbcdays/status/1126924914383044609?ref_src=twsrc%5Etfw
This is such an appropriate nickname for them.
What's Next on Days of Our Lives
Nicole blames Eric for a tragic event. Watch #DAYS, weekdays on NBC. pic.twitter.com/IyshoSKQ5r

— Days of our Lives (@nbcdays) May 3, 2019
Things are not going well for anyone, and now Lani is taking her life into her own hands. She's decided that she will be the primary caretaker of Jordan's baby, and we hear that she doesn't want his uncle near him. She will go out of her own way to make sure that she can keep him from Ben and Ciara, and that will not be an easy feat for her. She's been in a place where she's struggling to get things done, where she is working hard to make her own life work for her, and where Ben has been doing the same. They are together now, and this baby is his nephew. He is not at all related to Lani, and she has no right. This is going to cause some serious issues in this family, and we expect that Rafe will not be very amused by this, either, when he is ready to take responsibility of the boy after the mess he just caused.
Additionally, we also hear that there is a good chance that there will be a moment when Brady decides to deal with the devil. He will make a deal with Xander, and we know that whatever he is offering is not going to be good for him. This deal is to allow Nicole to have her divorce from Xander so she can be free and have her own life back, but at what cost to Brady? Xander isn't just giving him this dream for nothing, you know. There's too much at stake.
Stay tuned for more Days of Our Lives and be sure to check out TVOvermind daily for the latest Days of Our Lives spoilers, news, and updates.
Tell us what's wrong with this post? How could we improve it? :)
Let us improve this post!