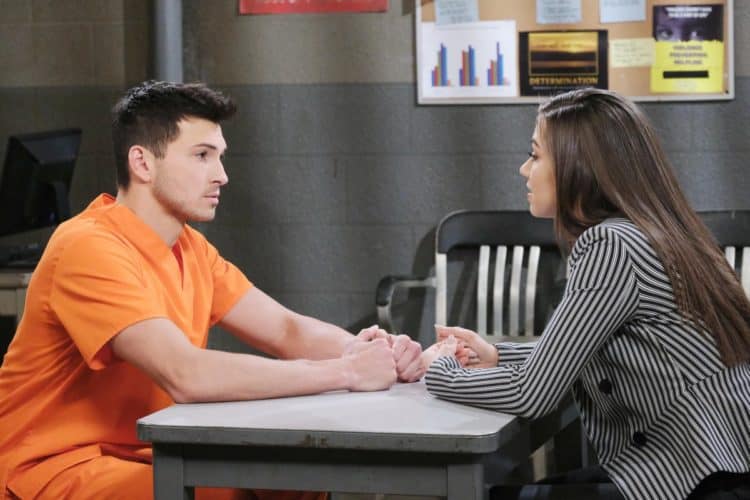 Days of Our Lives fans are not surprised the week began the way that it did. You knew that there would be some serious sparks when Victor found out that Ciara had been lying to him all this time. There is nothing he likes less in the world than being lied to, and it's not something he is a fan of when it comes to anyone. He's a man who likes to make things more complicated than they are, but he's also one who likes to make things a lot worse for those who irritate him in any capacity. On the same note, though, we didn't think that it was a total surprise to see that Evan and Sonny shared a kiss. He's moving on with this guy, and we are not sure that we even trust Evan. We love Will, and Sonny fought so hard for him only a year or so ago — and it's like he's given up.
Kayla wanted to chat with Steve and catch up, and we were a little surprised she wanted to learn so much about this woman he is in love with. She didn't think there would ever be a day when either of them loved another person, yet here we are watching it unfold in its entirety with some very surprising situations on our minds. We aren't sure how things were going to unfold here, but we do know that there is a lot that could happen. Xander wasn't happy, either, with the lies that Ciara told, and now he's taking his anger out on Ben when things are going a little bit differently in his life. He's issued a threat that we think he will follow through on even if it's not something that he would have done in the very past.
What's Happening on Days of Our Lives
In the latest #DAYS, Julie and Doug are hosting the New Year's Eve party at Julie's Place.https://t.co/ZsCmioRrzb pic.twitter.com/cCKRzL2AfL

— Days of our Lives (@nbcdays) January 1, 2020
We still think she's the most adorable, and they are the best.
What's Next on Days of Our Lives
Lives hang in the balance as Victor collapses and Ben waits to hear if he'll be given the death penalty. Watch #DAYS, weekdays on @NBC. pic.twitter.com/JSPgjfrgSg

— Days of our Lives (@nbcdays) January 4, 2020
We know this will shock you guys, but we hear that Kristin is going to use someone to get something she wants. So uncharacteristically like her, right? Wrong. She's a mess, we know it, and we live that, but we are ready to embrace the fact that she is about to live her life with something else going on in in it. She's about to use Gabi, of all people, to get what she wants. She wants Brady. She wants to have the life she thought for a quick moment during her pregnancy last year that she would get. But, that's not what is going to happen for her or to her. She has so many things to look forward to, and we know that she's got to find a way to get her life together. For now, though, she's back to her old self and her old ways and the things she did in the past that make her who she is now.
We also know that she's going to do a few things that will change the game, but we will focus, too, on why Lani threw a rock through the window at Gabi's. Eli is questioning her, and we don't believe a word she has to say. Xander is blaming Ciara for what happened to Victor and the new medical issue he's going through, and that might be a problem for her if Victor is no longer around to guide Xander. Brady is going to learn about Victor's condition today, too.
Stay tuned for more Days of Our Lives and be sure to check out TVOvermind daily for the latest Days of Our Lives spoilers, news, and updates.