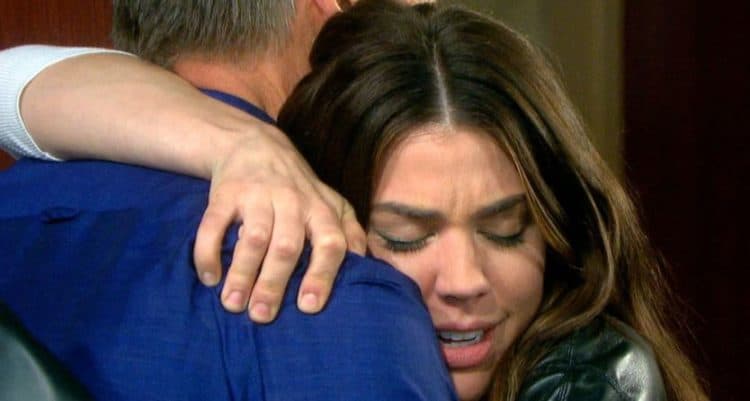 Days of Our Lives fans aren't surprised that Jack doesn't remember his family or that Jennifer is working so hard to make sure that she can find a way to remind him of who they are. She's a mess, and we get it. He's been dead — to her — for so long. She had no idea he was alive. None of us knew he was alive, and here he is. He's back, he's ready to find a life again, but he's not ready to find it with her and their kids. He has no actual idea who any of them are and why they are in his life. He's been told that they are, in fact, his family, but he has no memory of any of them. He's confused, he's disoriented, and he's living a life he's been living for years with no memory of his family. It's a terrible way to live — but it's even worse for his family who all remember who he is.
Jennifer is doing all she can to help him remember who they are, but she's unable to just flip a switch and make it all come back to him. However, she's optimistic that they can help him remember. After all, Will was able to gain back all his former memories from when he was gone and everything thought he was dead. He also came back without any memory and no idea who he was or why he was there. It was a devastating moment for all of them, and we cannot help but wonder if they can get Will to help them out or if he is too busy with his own life to make that happen. There's a lot going on, and we aren't sure where it might take them. We can hope with them, however.
What's Happening on Days of Our Lives
.@Bryan_Dattilo shares his #NewYears resolution with us. 😂 What's yours? #DAYS pic.twitter.com/REYa9nwhgW

— Days of our Lives (@DaysPeacock) January 1, 2019
Do you make resolutions? We prefer goals over here, and our goal this year is to get more of what we want from our lives. What's yours?
What's Next on Days of Our Lives
The new year starts with a shock: Jack is back, but he doesn't remember anyone in Salem. Watch #DAYS, weekdays on NBC. pic.twitter.com/EcXbFQ4V8R

— Days of our Lives (@nbcdays) December 28, 2018
The week might be a short one, but it's certainly ending on a major bang. For one, we know that Rafe and Hope are having a big day. They might not agree on what to do about Gabi and all she did to the DiMeras, but they are both looking for a few other ways to get their lives in order. He's going to arrest Stefan and charge him with espionage after all that was brought to his attention recently. He's also going to have a lot to say to his sister, who we do not feel is at all sorry for what she did. She's sorry for getting caught and that it all fell apart, of course, but she's not sorry for what she did. And that's too bad for Gabi. Rafe will have to deal with that at some point.
Hope is interrupting a date her daughter is on with Ben to make sure that she's aware that Ben helped Chad kidnap Abigail from Stefan so that they could have her baby with Chad. She doesn't really think that she can get her daughter to stop dating him otherwise, but we might be surprised. She might know he did this so he could earn a little money, and she might be all right with that. But she might not be all right with that, either. We don't know where she might go on this route to her life's successes, and we think she might have some issues to face instead. Will she agree or not?
Stay tuned for more Days of Our Lives and be sure to check out TVOvermind daily for the latest Days of Our Lives spoilers, news, and updates.