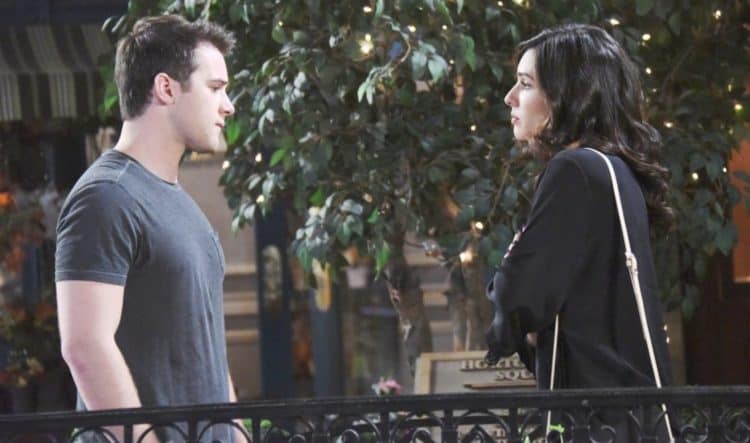 Days of Our Lives fans are not surprised to see that Ben and Ciara finally decided to end their relationship and call it quits. They were not in a good place with one another at all, and this is one of those things that didn't work for them as a whole. Her own mother was too invested in making sure this didn't work, and this means that they didn't have the best chances entirely. For one, they are a couple who might never be able to make a life for themselves if everyone is constantly worried about her and her own safety. Her mother will never get on board with her dating a man who was once a serial killer and who has a long history of mental illness. This is not good for her, but this might just work out for the best. After all, wouldn't Ciara rather be with a man who her family doesn't have to worry about?
We aren't sure this is the right answer for them considering how they feel about one another, and we are also not entirely convinced that they aren't really together. We do have a sneaking suspicion that they might be a couple in the background and that they are just getting Hope off their case. But we don't have any confirmation that this is true. For now, all we know is that it was painful to see them in the situation they were in when they broke up. They were a mess, and his heart was crushed just as much as hers. Is his history really a good reason for them to not be together? Or, is there a chance they can work this out and be together even though it's clearly not what anyone wants from them in the future?
What's Happening on Days of Our Lives
A most sincere and heartfelt thank you to the fans of @nbcdays. It is because of YOU that today the show was renewed for Season 55! #days pic.twitter.com/GiAWx2afj4

— Ron Carlivati (@carlivatiron) January 9, 2019
You know, that's a true story of appreciation right there. To say thank you to the fans for making the show the best is a serious way of actually saying things like thank you. We love the appreciation.
What's Next on Days of Our Lives
Xander and Leo team up to take over, and Haley has a secret. Watch #DAYS, weekdays on NBC. pic.twitter.com/LGks6xugLY

— Days of our Lives (@nbcdays) January 4, 2019
Eric appears to be finding some serious comfort in the arms of Sarah, and that feeling appears to be quite mutual. They have both been through a horrible situation this year. Him with the loss of Nicole just a few moments after she came back to town married to a man whom she did not love as a way of saving her own life and the lives of the people she cares for the most. And then Sarah's situation occurred when her fiancé was in the middle of their engagement party celebrating with her when his ex showed up to tell him that she's just given birth to a baby that they conceived when he cheated on Sarah a few months before. It was not good news. But, now it appears that they are in a good place with one another, and that certainly has us wondering what will happen to change that for them both.
JJ is also learning that Haley is a woman who has secrets. We think that he shouldn't be too shocked about this. After all, everyone around here has secrets, and it's not like he's not been involved with his fair share of women with secrets himself. We just don't know much about what he has going on in his life at the moment other than the fact that he is just terribly confused about so many things — but this might be a change for him. That's all we have at the moment, but we can expect him to want to look into this.
Stay tuned for more Days of Our Lives and be sure to check out TVOvermind daily for the latest Days of Our Lives spoilers, news, and updates.
Tell us what's wrong with this post? How could we improve it? :)
Let us improve this post!