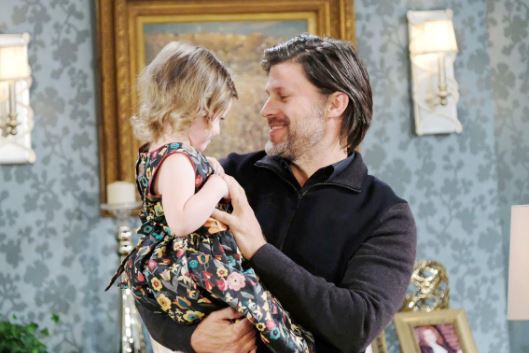 Days of Our Lives fans are not at all surprised that there was so much drama last week. It was a huge week for everyone, and there was so much going down that it's amazing anyone was able to keep up with it. We want to start with Abigail, though. She was furious — and we mean beyond furious — with her husband. He thought he might be helping her when he had Ben help him kidnap her, but the fact that her own husband would go out of his way to work with the man who tried to kill her more than once, who tortured her, and who made her life miserable — and not to mention the fact that he is a former serial killer with mental health issues he has to medicate regularly — is not something she is all right with in the least bit. She was crushed to realize what he did, and she might never let Chad get away with this. She might never forgive him. She spent her time yelling at him for it, and she's beside herself for the mess he caused.
Meanwhile, Hope cannot handle the idea that her own daughter wants to date said former serial killer with the mental health issues, and she's looking to do anything and everything she can to make sure that this doesn't happen. She's not happy with the way things are going for her, and she's been working very hard to ensure that they all find a way to make this work. She and Ted came up with a plan to get him out of the picture by trying to get him to confess that he started the fire at the cabin, and they are going to lay that plan into some sort of action next week. And we have a feeling it will upset Ciara more than a little.
What's Happening on Days of Our Lives
Also in the new podcast, @nbcdays stars talk #Cin #WilSon and #Elani! Interviews from #dayofdays with @victoriakonefal @MrRobertScott @ChandlerMassey @freddiemsmith @LamonArchey @SalStowers! Free download/subscribe. Link in bio. #days #ships #DaysofOurLives pic.twitter.com/yray2vmS7n

— TV Babble Podcast (@TvbabbleP) November 28, 2018
This might be something we all want to see to heat things up a bit this holiday season. Tune in and listen to it yourself. It's good stuff.
What's Next on Days of Our Lives
Lani gets jealous when she sees Eli with Sheila. Watch an all-new episode of #DAYS, weekdays on NBC. pic.twitter.com/J8P9HzjsDw

— Days of our Lives (@nbcdays) November 30, 2018
This coming week is going to be a dramatic change for many, too. There will be a time when we see that Ted will try to get Ben to confess, even though Ben maintains he did not start that fire. He and Hope made it their mission to be sure that they were able to find out that he did it, and they are banking on the fact that he did it. There is not one part of her that doesn't think that this young man is responsible for starting that fire and creating all the issues that are created by him in the meantime, and she's working very hard to make sure that he stays out of her daughter's life. But she cannot force him — or have someone else force him — to do that kind of dirty work for her. She cannot make him guilty of something he did not actually do. She seems to forget this, however, and it's a mess for everyone involved in the entire situation.
But, for now, there are a lot of things that need to be done in other aspects of lives that are meant to be made clear. There is going to be a moment when Chad is going to find Gabi with the results of Charlotte's paternity test. He still doesn't know that the baby is his, and he is still convinced that the baby belongs to Stefan. The fact that he will find her with those might mean that he is close to finding out the truth.
Stay tuned for more Days of Our Lives and be sure to check out TVOvermind daily for the latest Days of Our Lives spoilers, news, and updates.