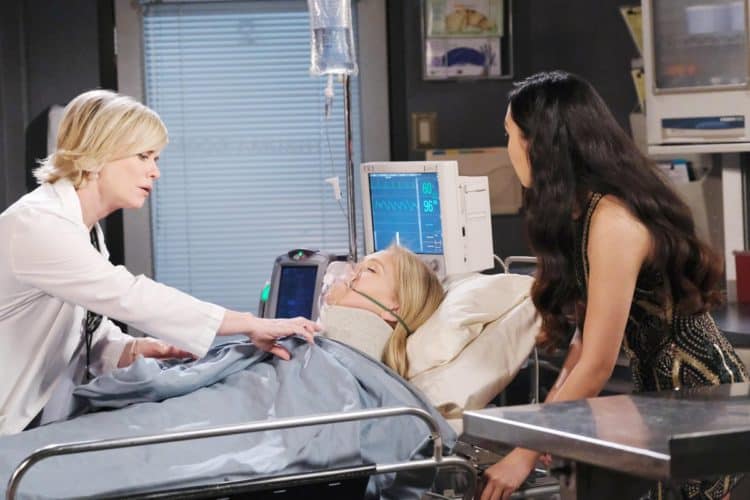 Days of Our Lives fans are just sitting over here going, Wow. And that's not all. We cannot believe all that happened at the double wedding. We also cannot believe so many people are willing to share their wedding day when they know that these never end well. Remember the last double wedding in Salem that ended with Ben back from the hospital, a dead man back to life, a couple not getting married, and one couple not even making it to their own wedding? Everyone around here is just stunned and beside themselves at all that is happening right now, including Eli and Julie when she hears what happened. Then there is the fact that Gina had a run-in with Rafe, and we can all say that did not end up going well for anyone. We are not happy about so many things that went down here, and that's just what it is at the moment.
For now, though, we also have to focus on the fact that we didn't know that Jennifer was going to make the discovery she made that put her in the place she is in, and that caused her to be unable to live if Haley and Kayla cannot save her. Lani punched Gabi right in the face, and we'd go so far as to say she seemed to like every single second of what just went down in her life. She is a woman who is darn tired of being told what to do and having her own life ruined because someone else did something to protect someone else and got in her way of doing her job. She's not having this, but we assume that Gabi will want even more revenge on her now, and that will be a bigger mess.
What's Happening on Days of Our Lives
In the latest #DAYS, Lani makes a heartbreaking decision.https://t.co/ZsCmioRrzb pic.twitter.com/oaqGSWrm2U

— Days of our Lives (@nbcdays) November 5, 2019
Did your heart break a little, too?
What's Next on Days of Our Lives
Salem is abuzz with three weddings – Jennifer and Jack's, Adrienne and Justin's and Lani and Eli's – but will there also be a funeral? Watch @DAYS, weekdays on @NBC. pic.twitter.com/lF5fzm2ev1

— Days of our Lives (@nbcdays) November 2, 2019
Ben is having a hard time right now because he knows that his sister is a hot mess who is doing horrible things to the people of Salem. He knows she is trying to kill his girlfriend and frame him for it. He knows that she is the reason Rafe is in the hospital, and he knows that she is up to no good. But he is also afraid that he has to kill her to stop her from all that she is doing and all that she has turned into. He's not sure there is anything else he can do to stop her, and he's afraid that killing her might send him to prison, lose everything he has in life, or send him back over the edge. He doesn't want that when he currently feels as if he has so much to live for.
Then there is Kristin, who is going to have yet another pregnancy scare. This is not going to be a good pregnancy for her, if we have to guess. She's already had one, she's a little older, she had this baby because she tricked a man into sleeping with another woman, and she's a mess. This is not going well for her. Jack and JJ are not happy about what happened to Jennifer, and they don't believe she just fell. They are looking for answers, and we believe that they already have an idea of what happened and how it all went down. Could we be right about that? And Nicole is, still and always, struggling to decide whether to tell Eric the truth.
Stay tuned for more Days of Our Lives and be sure to check out TVOvermind daily for the latest Days of Our Lives spoilers, news, and updates.
Tell us what's wrong with this post? How could we improve it? :)
Let us improve this post!