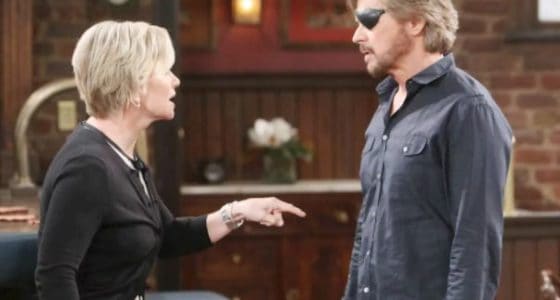 Days of Our Lives fans know that things aren't looking good for Steve and Kayla right now after things escalated so quickly with Tripp. We hear they are going to get into a fight that might make things very bad for them at home. Is there a chance these two can patch things up and make it right once again? We aren't entirely certain they have a chance to make their marriage good in the moment, but we believe they will be all right. Tripp got Kayla to confess to murdering Ava even though she didn't do it. She took the blame so she could save herself and continue to protect her son.
It's not good news, though, because everyone in this household is going to end up fighting now that Joey intervened and told Tripp the truth. He killed Ava. He told the entire sordid tale, and everyone is feeling very upset and betrayed right now. There is no good news coming from anyone at the moment, and it's been a very stressful situation. Tripp doesn't know how to feel knowing his entire family has lied to him — even if it was for his own protection.
He does feel awful about the things he did to Kayla, however, but he can't go back and change that. He thought he was protecting his mother's memory by making her pay, but he was wrong. This is one family who are all feeling awful, horrible, and no good now that this has gone down.