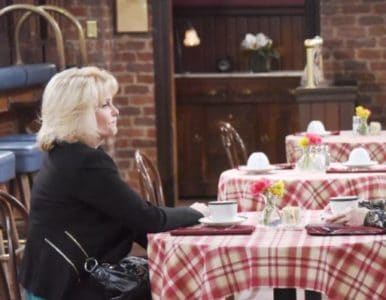 Days of Our Lives spoilers indicate now is the time in which people are being taken over and the real versions of themselves are missing. We already saw Hattie take over the life of Marlena by locking her in a mental facility without any chance of being set free. She's planning on leaving her husband so she can pursue the man she really wants — and now we have confirmation that Bonnie is doing the same thing to Adrienne. She and Hattie will work together to pull off the final part of their plan in which they are taking over the lives of one another.
It's going to be a very interesting situation, and we cannot wait to see how figures this out first. We'd like to say we think the odds are with John figuring out that Marlena isn't really Marlena. But we also think there is a good chance that Steve will figure out his sister isn't really his sister before much longer. It might not be the best situation for everyone, but it is one that we can all relate to. Family might not always be able to tell when they offended you, but they know when someone else has taken over your life.
Will these two team up to save their respective family, or will they not even realize that both of them are going through the same thing? Anjelica is a problem for Steve, so it won't take him long to figure out she's probably behind this.