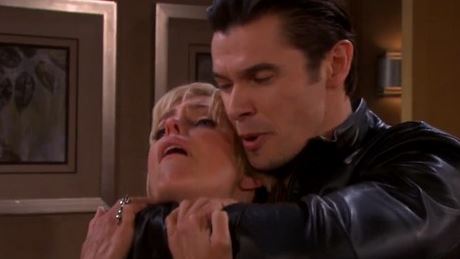 Days of Our Lives spoilers tell us things are getting even crazier than usual on this hit show. We will see Chad all upset in Greece when he gets the notification from his wife that she's filed for divorce. Imagine his surprise when it takes him all of three more minutes to bump into Gabi, who is there to stop him from getting the amulet he already has and lied to his brother about. What a coincidence, right? They are going to chat about it, and Gabi will find herself in an awkward situation. Here is a man she loves and who loves her in return who is so upset that his wife is filing for divorce he can't even stand it. It ought to prove very uncomfortable and interesting for them, and it ought to be a very strange situation all the way around.
We are also going to hear that Xander has decided he no longer has any interest in listening to Deimos, which is going to put Nicole and Eric's lives in danger. They weren't really in danger when Deimos was in control. He merely wanted them to feel as though they were in danger so he could come in and rescue them, look like the good guy, and win Nicole's heart back. That's not going to work now, and these two have no idea that things really did just take a very serious turn. Xander has his own agenda right now, and that's all there is to it.
We also found out that things are going to end with Eli and Gabi this week. He's going to see her embracing Chad after a mugger holds them up with a weapon and threatens their lives. When he runs away, they'll embrace in relief, Eli will see from afar, and he will leave Gabi by telling her she's clearly not over Chad and he won't be able to see her anymore. She'll be blindsided by this, and she didn't see it coming at all. Will anything work out for Gabi in the near future? She's having a tough run of luck lately.