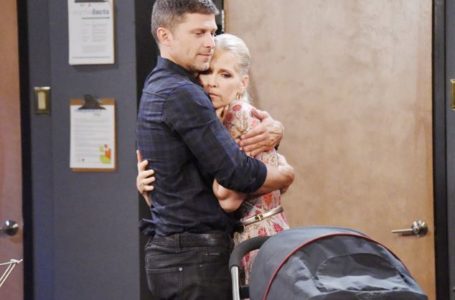 Days of Our Lives is coming back next week with crazy spoilers. We know that Julie has been taken to the hospital after her confrontation with Gabi, and Gabi feels responsible for the older woman's collapse. She's going to apologize for becoming angry with her, but things will only get worse from there. Julie will not forgive the girl that is dating her grandson, and she will say some really awful things to Gabi. We think this might play a big part in the continuing downfall of Gabi and her mental health. She's not in a good place right now, and no one seems to know that she's suffering like she is. She's very unhappy, and she's not making much sense at the moment. We can't help but wonder if she will be able to overcome what's happening to her. She's not usually so impulsive, but it might work against her in the near future.
Tripp was arrested last week, and we know he's in a bad place. It's too much for him to handle right now, but Kayla is going to get him out of jail. He seems to have a better bond with his father's wife than he does with his father, but he's still not open to a relationship with them. What he is going to do is side with Jade, who is in a lot of trouble of her own. We want to know if Kayla can help both of these troubled young people out, or if they will find themselves in even hotter water as the days go by. She wants to help Tripp get through the issues he's having with Steve, but Tripp won't let Kayla help him there.
What we do know we will see next week is a little change in Tripp. He really does have a soft spot for Kayla, and he's really bonding with her more each day. Will she be able to change his mind about his father and his brother, or will she only manage to create a deeper divide with them? How will this affect her marriage to Steve?