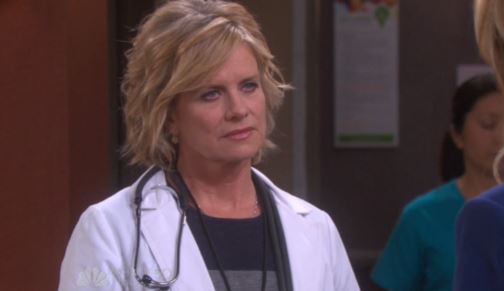 Days of Our Lives fans have come to expect a lot from Kayla. She's been a good doctor. She's toed the line, crossed it many times, and she's always done what she feels in her heart is the right thing to do. She is a woman who has a lot to learn in life, but she's a good person. She would do anything for a friend, a family member, or a patient, and she's proven that time and time again as she has helped those in need when they need her the most. She took in her husband's illegitimate son born from a horrible woman who seduced her son and then her son killed her a year ago without question, and she and Tripp have bonded in the past few weeks.
Except we don't know that she and Tripp have bonded. Steve is going to plan a wonderful day of pampering and nice things for her because she's gone through so much stress since they were able to find his new son. He's been making their lives miserable, and he's causing a lot of issues. Tripp has been blaming Steve for Ava's death since he met him, and that's what Steve want. He doesn't want his son to realize that it was actually his other son who killed Ava. He doesn't want this to ruin the relationship that he has with either son, but he won't let Joey go down for this.
But now Tripp has decided that perhaps it's not Steve who killed his mother. He's decided his father is covering for someone, and he thinks it's Kayla. He doesn't' know Joey did it, but he's going to think that Kayla did it. He wants revenge for the mother he never met, and he is going to take that out on Kayla. Knowing her, she will let him continue to think she did it when she finds out this is what he thinks, because she will never put her own son's life on the line. But will Joey decide he can't see his mother suffer? We don't know, but this should be good.