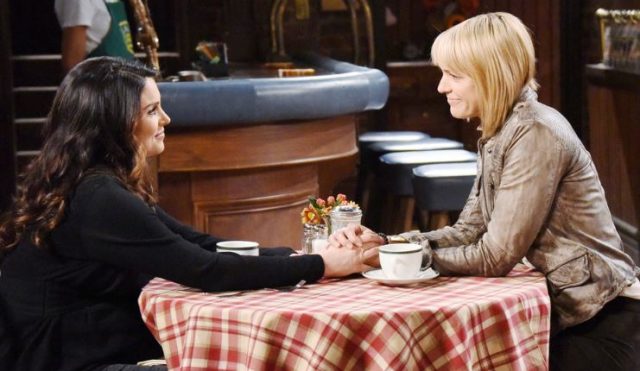 Days of Our Lives fans can't wait to see what happens on a brand-new episode, and we promise it's worth the wait. Chad is going to find he has far more to worry about than the fact his wife is back from the dead and he's already falling in love with another woman. His family and another family are at war, and he is being brought into the drama in Salem with a vengeance. He doesn't want the issues they're facing, so he's going to do whatever he can to keep the peace. He's going to talk to Sonny and Dario and discuss the issue at hand to find a way to make peace and keep the problems at bay. Unfortunately, we just don't think that Chad can do it.
It looks like Gabi and Abby are working together to figure out what's going on at the docks, and they will spend a bit more quality time together in the meantime. This can't be good for Chad. What will they find, and will this be the catalyst that ends up in the kidnapping we've been foreshadowing that Deimos will put on these two?
Hope is awake, and she's with Eric. They've had time to talk, so she now understands where she stands with him. She knows where he is and where his heart is, and they're working together now. He's working to keep her healthy and alive, but he's also trying to keep the police away as they show up to ask if he knows anything about how Hope ended up out of jail. She remembers very little about what happened to her, and he's going to keep her secret.
Rafe and his team are working to surprise Stefano, whom they've found. Unfortunately, Anna did the dumbest thing by surprising them, foiling their plans, and shooting Steve. It wasn't intentional, but it's not good news for anyone if Stefano found out about it and realizes they're in Prague. It looks like Stefano did realize they were there to get him, but he made a big mistake in leaving behind a key. Will they use it to find out where he is, what he's hiding, and how they can set Hope free? We can only hope her struggle is almost over.