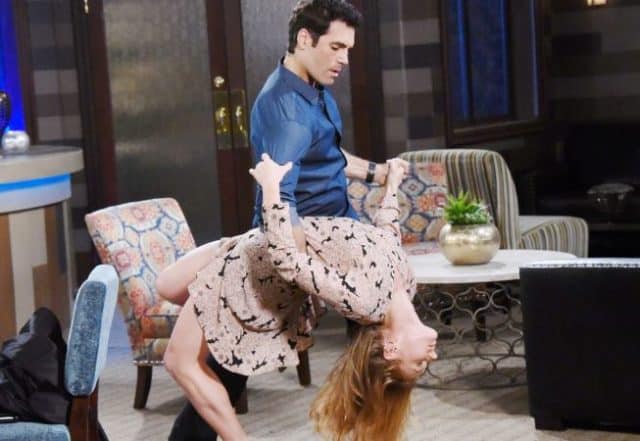 Days of Our Lives spoilers for Friday tell us the end of the week is going to be insane. Nicole is on the run with her biological daughter, kidnapped from the surrogate mother who decided to file a custody lawsuit and won. She's taking her baby and leaving the country, and she's taking Brady with her. More accurately, Brady is helping her escape with the little girl as they leave their families and friends behind. No one is happy about this, and her situation is about to go from bad to worse. Brady knows all he is risking when he tries to help her get across the border and into Canada, and he's happy to do it against all the wishes of his family.
It's going to be a weekend filled with jealousy. Deimos is jealous Nicole and Brady are together. Kate is jealous when she sees Chloe and Eduardo together, even though she swears she's not into him and hasn't been in a long time. She's not going to be very happy when she sees them together, and she's going to make an already bad situation a lot worse. It's going to be a bit on the ugly side for Abigail, too, when she realizes that Chad just can't get over Gabi. When Dario realizes how upset Abby is about her husband and his sister, he's going to feel some jealousy of his own.
Eric is finally going to come back to town and try and make his life something useful again. He hates it, he hates himself, and he doesn't want to come back. He has to do something, though, and we wonder if it's going to be Jennifer who helps him. We have reason to believe their quick romance before he went to prison last year is something that he has a desire to work with, and these two might just be back together. Of course, Jennifer has some issues of her own to work out. We just hope these two are able to work together to overcome their demons rather than fall into the trap of living with them again.