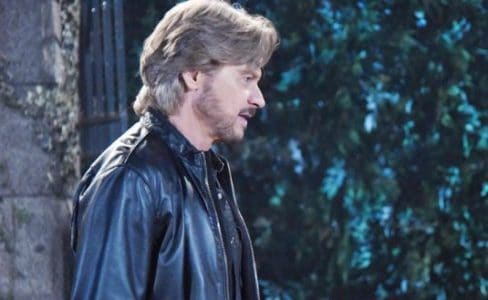 Days of Our Lives is no stranger to the paternity test issue. It's like an episode of a bad talk show with so many people unfamiliar with who is and isn't the father. In fact, soaps take it a step further and even go so far as to tell us they're not entirely certain who someone's mother might be. This is big news because it's pretty darn difficult to not know who someone's mother is — but this is a show where a woman can give birth to a baby she believes is hers only to find out later that baby has absolutely no relation to her. This might not be the case when it comes to Tripp, but his paternity was just revealed.
Last year we saw Ava tell Steve time and time again that they had a baby boy somewhere in the world. Well, he's not really a baby anymore, but you know what we mean. He assumed she was lying, didn't want to help her look for this baby, and that ended up getting his wife kidnapped and held hostage. As a result, Steve had to sleep with Ava to get his soon-to-be wife back, but his son walked in on them, and his son was in love with Ava at the time. What a mess. Then his son, Joey, killed Ava. Then his own life spiraled out of control, and now it turns out the baby that Ava was so adamant she shared with Steve is a real person, and it's all true. Now the boy is back in Steve's life, and he's not happy his mother is dead.
He's also not convinced that Steve is the one who killed Ava. Steve would never, ever let Joey take the blame for her death. He even went to trial over it when Joey wanted nothing more than to protect his father's name and admit the truth. Now Tripp suspects that they are not telling him the truth, and he's not happy about it. Next week, we will dig even further into this story line, and we're going to see Tripp make some decisions that might affect his newly formed family. He seems to take after Ava in that he cannot let it go even it if means sacrificing his opportunity to finally have his father in his life. Will he find out the truth?