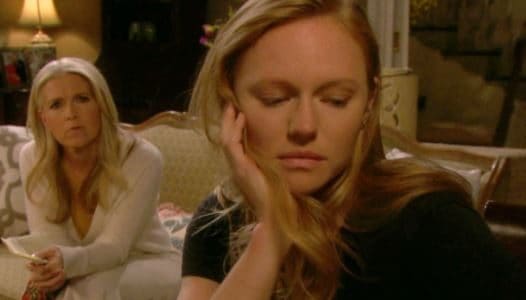 Days of Our Lives fans are going to see Abigail cause a little drama on Tuesday. She's going to make sure Stefan knows she is not a fan of his ways, and she's not looking forward to what he's planning on doing. She's going to accuse him — to his face — of attempting to cause problems in her marriage with her husband so that he can get his way. She might assume he is doing this so they are focused more on one another and less on what is going on in the workplace so he can take over and get what he wants.
She's going to tell him they are not stupid, they are not fans, and they are not going to stand for it. And he might just apologize. We don't know, but he seems to have taken a bit of a liking to her, and he might just respect her honesty and her opinion on the way things are going. She might open up to him with this one and make him see that he's going to need to take a friendlier approach with her if he wants to get anything accomplished.
And it might work. They will become friends, even if they don't entirely trust one another. And that might just be what it takes to drive Chad entirely mad and crazy. He won't like it one bit, and it's probably going to be how he gets to his brother by going through his wife with niceties.