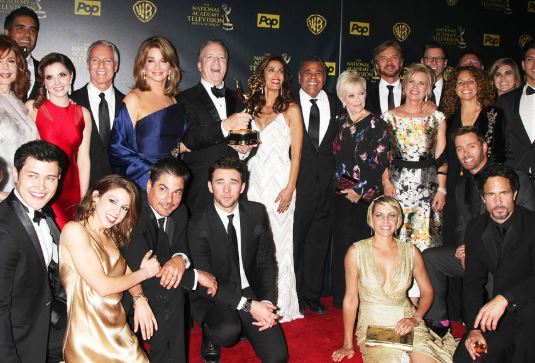 Days of Our Lives has been around for more than 50 years, and it's got some serious Emmy wins to show that. The show has taken home more Emmys than you want to know, and it's been because of the beautiful cast, the great acting, and the phenomenal writing, among other things. As of 2018, the show has so many Emmys it took us days to count them all. Well, maybe not days, but it definitely took us minutes to look them up. We thought we'd share those wings with you to help you understand where this show is winning and where it might not be as good as others.
58 Emmy Wins
This show has taken home 58 Emmy awards as of 2018. The most awards come from the various categories most people don't consider as important as they consider other categories because they have very little to do with the actors and actresses. However, there's been 31 wins in terms of things like Best Individual Director and Outstanding Hairstylist and Outstanding Costume Design. It's a winning show, that's for certain.
176 Emmy Nominations
Unfortunately, the show loses more Emmy nominations than it wins. Of the history of the show, someone or something that has to do with the production has been nominated a grand total of 176 times. Of course, this does include the staggering 58 wins the show has taken home over the years. There is a lot to be said for winning an Emmy, but there's also a lot to be said about being nominated for one, too. It's always good to be recognized, even if you don't take home the grand prize.
Major Category With the Most Wins
It turns out that it's the younger actors in a drama series that take the cake for being the best at what they do. It's one of the main categories, and it's the one that has the most collective Emmy wins over the years. The Outstanding Younger Actor in a Drama Series Emmy has gone to someone from Days five times as of 2018. Of course, that's out of a total of 20 nominations, which makes it a 25 percent success rate.
Major Category with the Most Nominations
If you want to know which category is recognized with a nomination the most, it's the Outstanding Drama Series category. Over the years, it's been nominated for 22 Emmys for being the Outstanding Drama Series. It's won four times in that category as of 2018. The first win came in 1978, and then again in 2013, again in 2015, and again in 2018.
Star With the Most Wins
Not only does the Younger Actor series win for the most wins in the Emmy conversation, it also boasts the star of the show who has the most wins, hands down. You might be surprised, you might not be surprised, but you might be interested. It's actually the lovely Will Horton, or Chandler Massey, who gets to claim the most Emmy wins for his role on Days. He's got three wins and four nominations total for this role.
Categories With the Most Losses
You now know that it's the young actors who get the most recognition and Emmy wins, but it's not looking as good for the actresses as of 2018. Young actresses have only been nominated for the Outstanding Young Actress Emmy a total of 16 times. Of those 16 nominations, only one has taken home the Emmy. And that was True O'Brien for her role as Paige Larson in 2016.
Least Nominations in A Major Category
Not all the categories get a lot of nominations, and it's the men who lose when it comes to the fewest Emmy nominations. It's actually the Supporting Actor in a Drama Series category that has the least number of nominations. They have only been nominated a total of 9 times over the years (as of 2018). They did net two wins, though. Those wins go to Eric Martsolf who plays Brady Black (he won in 2014 for the best supporting actor) and Greg Vaughan, who plays, Eric Brady, in 2018. We should also point out the Chandler Massey was also nominated as a supporting actor in 2018 for his comeback role as Will.