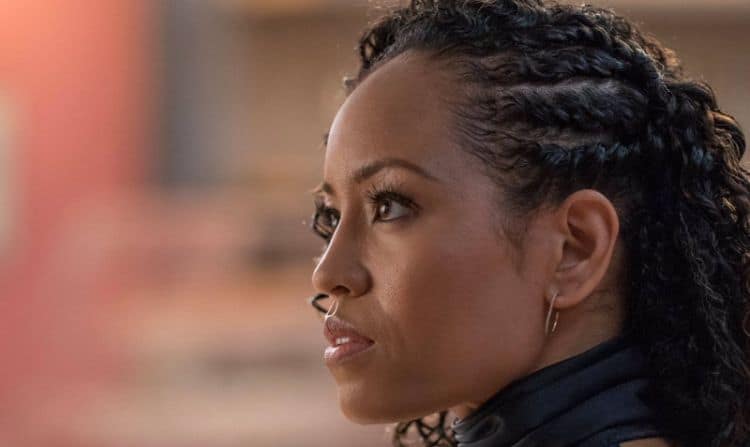 Ever actor dreams of the moment when they finally get an opportunity that takes their career to a new level. For Dawn-Lyen Gardner, that opportunity came in 2016 when she was cast as Charley Bordelon in the OWN series, Queen Sugar. The show went on to become a huge hit and it has made Dawn-Lyen a star in the process. Her ability to bring all of Charley's complexities to life has been a testament to her immense talent as an actress. Now that the show is in its 5th season, viewers are excited to continue on Charley's journey as she works hard to do what's best for her family and the rest of St. Josephine Parish. Here are 10 things you didn't know about Dawn-Lyen Gardner.
1. She Is Half Chinese
Dawn-Lyen was born and raised in the Los Angeles area, and she comes from a diverse background. Her father is Black and and her mother is Chinese. During an interview with Allure she said, "That word is a little tough for me because I feel like I've worked hard to have an integrated identity because of this experience growing up mixed race. My experience of culture and identity is that it is fluid. That's the reality, and to pinpoint one or the other doesn't work for me. "
2. She Studied At Juilliard
Dawn-Lyen is a formally trained actress who has put a lot of time and effort into sharpening her skills. She trained at the world famous Juilliard School where she graduated in 2003. She attended at the same time as her on-screen sister in Queen Sugar, Rutina Wesley.
3. She Is A Voice Actress
When most people think of Dawn-Lyen, her live action work is what comes to mind. Many people aren't aware of the fact that she's also had a successful career as a voice actress. In 2012, she voiced several characters in Star Wars: The Clone Wars. She was also in the 2012 video game Prototype 2.
4. She Is Passionate About Empowering Other Women
There are lots of industries — including entertainment — where being a woman comes with lots of unique challenges. Dawn-Lyen is the kind of person who wants to use her position to make things easier for other women, and she's serious about empowering others. She is an ambassador for an organization called Women for Women International which is all about women working together.
5. She Loves Interacting With Fans On Social Media
A strong fan base is a must for anyone who wants to be successful as an entertainer. This is something Dawn-Lyen fully understands and never takes for granted. She is very active on social media and she loves using her platform as a way to interact with the people who support her work.
6. She Is An Activist
Dawn-Lyen didn't always intend on getting involved in activism. In fact, politics and other similar areas was something she initially avoided. Eventually, however, she decided to use her voice as a tool for positive change and she has become very vocal about social justice causes and voter rights.
7. She Loves Pancakes
Everybody has one food that they with they could eat regularly without any negative consequences. For Dawn-Lyen, that food is pancakes. When asked about her 'ideal food day' she told The New Potato, "Well, in a dream world free of dire health outcomes: PANCAKES! Topped with everything: butter, syrup, berries, chocolate, all of it!"
8. She Is Serious About Her Skincare Routine
When you spend as much time in front of the camera as Dawn-Lyen does, you want to make sure your skin is always looking its best. Although her skin care routine is relatively simple, it's something she takes seriously. She uses a natural brand of skincare products called Ilike Skin Care and she has been a customer for several years.
9. She Suffered A Miscarriage
The COVID-19 pandemic resulted in 2020 being a tough year for a lot of people. Although Dawn-Lyen wasn't directly impacted by the pandemic, the year was hard for her in other ways. During an appearance on The Real, she revealed that she suffered a miscarriage. She found the topic difficult to talk about, but decided that it was important to share her story.
10. She Loves To Read
Dawn-Lyen is the kind of person who is always seeking out new information. She is a lifelong learner and spends a lot of time reading books. In a post in January 2021, she took a photo with some of her favorite books from 2020 and encouraged her followers to share their favorite books as well.