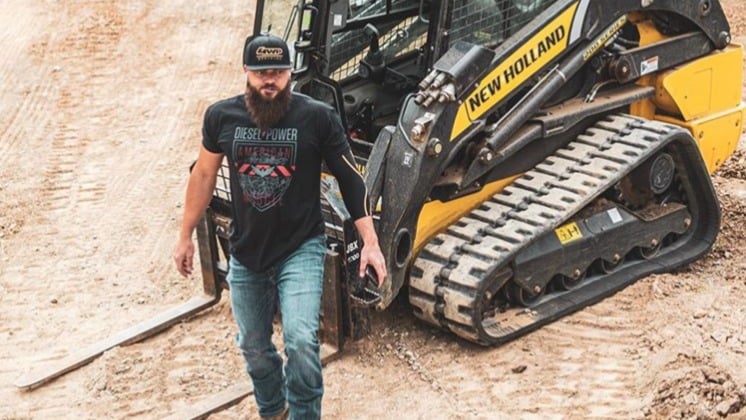 David Sparks is best known for his role on the television reality series "Diesel Brothers." He is a co-star of the show along with his partner David Kiley. Auto enthusiasts, in particular, find his custom vehicle work to be highly interesting and David has become famous since the show first began airing on the Discovery channel. Sparks is an interesting character and a savvy businessman. There are a lot of fascinating facts about him that the average viewer is probably not aware of. To help you become better acquainted with him here are 10 things that you probably didn't know about David Sparks.
1. His nickname is Heavy D
Since Dave was a little boy he was known by those close to him as Heavy D. He was given this nickname as a child. Since he was small, Sparks has had an avid interest in all vehicles with wheels or an engine. This fascination with powered wheeled vehicles in what fueled his fire to become a custom vehicle builder. He has never lost his sense of wonder and curiosity, but what really sets him apart is that he puts his ideas into action and creates some very unique vehicles in the process.
2. He started his training in high school
Auto mechanics was the subject that Dave was most interested in when he was in high school. He was fortunate to have the resources to study this along with fabrication and welding. This gave him the skills necessary for building custom vehicles. It's something that he's been doing for a long time and he knows how to do it right. He has followed his passion for the majority of his life, building his knowledge and skills and it has paid off because he's one of the best at his craft.
3. He went to work right out of high school
After Dave Sparks graduated from high school he didn't have any trouble finding a job. A close friend and mentor of his named Rich Eggett hired Dave at his shop. It was a company that rented motorcycles and ATVs. Dave was made the manager of the business. It gave him yet more experience in working with ATVs and motorcycles which allowed him to use the knowledge that he gained in the classroom in a real-world practice setting.
4. Dave Sparks went to college
Dave enrolled in classes at Weber State University when he was 21 years old. He had already had some experience in the management of a business and thought that it might be helpful. As it turned out, he discovered that this was not the best use of his time because the work that he was planning to do had less to do with what he could learn at college and it was more beneficial for him to get back out into the real world and get more hands-on experience. He finished one semester at the school before leaving college.
5. He formed his own business
After he left college, Sparks took a job at his uncle's construction business. There he operated heavy equipment, gaining yet more practical experience. After this, he established his own small excavation business. He did landscaping and build waterfalls, rock walls and other related structures. His very first employee was his best friend, Dave Kiley, aka "Diesel Dave." He was brought on board to run the equipment.
6. He is a family man
Dave met his wife in 2009, and within a year they were married. The couple welcomed their two children into the world and they are still together. They also opened a small used car lot called Diesel Sellerz. The business has done very well and expanded.
7. His investor group just acquired prime real estate
Dave Sparks has done very well for himself on the business front. He heads an investor group and he and his partners took an interest in owning Fremont Island, which is the 3rd largest privately owned island in the Great Salt Lake. It is a 3,000-acre island in Weber County.
8. Sparks is concerned about the environment
When Dave Sparks first purchased Fremont Island, some conservationists were concerned about the potential impacts of driving off-road vehicles across Ogden Bay. This is a purchase that is totally separate from the Diesel Brothers business and Sparks has not yet made a decision about what he is going to do with the land. What we do know is that he is looking at how he can use the land for exploratory purposes but he has stipulated that any activities will be low-impact, eco-friendly and environmentally responsible. Sparks does create high-octane diesel trucks that leave a heavy carbon footprint, but he asserts that he is environmentally conscious and he plans to be careful to preserve the integrity and health of the property that he and his group recently purchased.
9. You can follow him on Instagram
If you are a fan of David Sparks, you might be interested in knowing that he has an Instagram account. We checked it out and so far he has more than 2.6 million followers on the page. He does a great job of keeping it populated with interesting photos of his work, his family and what is currently trending in his personal life as well as the business. It's a wonderful resource for fans. So far, he has made 4.486 posts. He bills himself as the Chief Troublemaker at DieselSellerz, Diesel Power Gear and Diesel Brothers – Truck Giveaway.
10. You can't judge a book by its cover
David Sparks has gained a reputation for the incredible work that he does in the customizing of Diesel vehicles, but he is also believed to do things that are not in the best interest of the environment. He has been accused of disabling the emissions control systems on some of his custom rigs. This hasn't been proven one way or the other but we do know that he claims to care about the environment and the new property that he has purchased is something he intends to preserve. You can't always believe everything that you hear and it's not always safe to make assumptions about the character of a person based on hearsay.
Tell us what's wrong with this post? How could we improve it? :)
Let us improve this post!