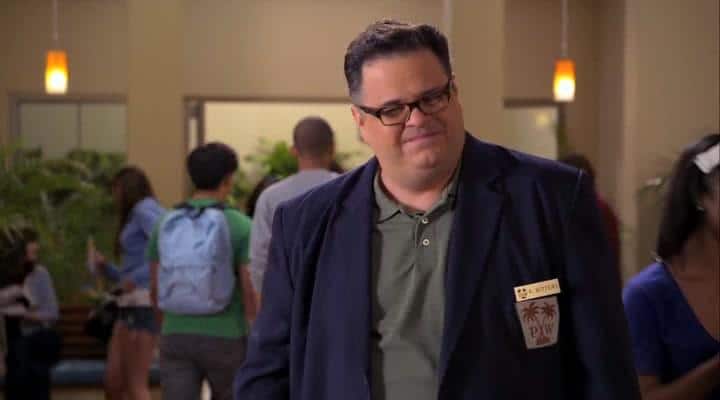 David Anthony Higgins has been acting on screen for more than 30 years. In that time, he has earned 45 on screen credits and entertained countless people. David is best-known for his role in shows like Big Time Rush, Malcolm in the Middle, and Mike and Molly. His most recent role is in the CBS sitcom, B Positive. Although he is most famous for playing comedic characters, David can do much more than just make people laugh. His versatility as an actor has allowed him to work with some of the biggest names in the entertainment industry all while becoming one himself. Continue reading for 10 things you didn't know about David Anthony Higgins.
1. He Is An Iowa Native
David was born and raised in the Des Moines, Iowa area which is where he first developed his interest in acting. David is very proud of his midwestern roots but it goes without saying that Iowa isn't the best place for an actor to pursue a professional career. He decided to move to Los Angeles to jump start his career and he still lives there today.a
2. A Teacher Encouraged Him To Get Into Acting
Some people were born to do what they do, and David is one of those people. He's always had a knack for entertaining and it didn't take long for the people around him to see that he was talented. When he was in elementary school, a teacher encouraged him to pursue performing. He eventually earned a scholarship to the Des Moines Playhouse.
3. He Is A Writer
David knows how to light up the screen every time he steps in front of the camera, but that isn't the only place where his talent shines. He is also a skilled writer who has been involved in screen writing since 1990. His most notable work as a writer was writing 11 episodes of International Ghost Investigators.
4. He Is Not Afraid To Get Political
Politics has always been one of those things that most people don't feel comfortable discussing in front of mixed company, but the political climate in 2020 has been especially tense. Despite that, David has never been shy about sharing his political views. His social media activity has made it very clear where he stands.
5. He Isn't The Only Actor In The Family
Although David's parents weren't involved in the entertainment industry, David and two of his brothers were bitten by the acting bug. His brother, Steve, is an actor, writer, and producer. He is best-known for being a cast member on Saturday Night Live. David's brother, Alan, is also an actor and producer. In fact, he was an executive producer for Mike and Molly.
6. He Loves Interacting With Fans On Social Media
Social media has become a very powerful tool and many actors have been able to use it to their advantage as a way to market their work and connect with audiences. David is an active social media user and he loves getting the chance to interact and engage with his fans.
7. He Is A Husband And Father
David has devoted a lot of time to his career over the years, but his hard work hasn't come at the expense of his personal life. He has been married to his wife, Julia, for the last 20 years. The couple has two children together. When he isn't busy working, David loves hanging out with his family.
8. He Likes To Cook
Cooking is one of those things that many people consider a chore and only do out of necessity. David isn't one of those people, however. He likes spending time in the kitchen and seems to have an extra special place in his heart for baking. He often shares photos of the dishes he makes with his followers on Instagram.
9. He Attended The University Of Iowa
After completing high school at, David enrolled in the University of Iowa where he majored in liberal studies. It didn't take long for him to realize that the traditional path simply wasn't right for him. He left school early and decided to pursue his dreams of having a career in the entertainment industry.
10. He Was In An Episode Of Maury
David has gotten a lot of cool opportunities over the years, but one of the most interesting of them all might've been an appearance on the Maury show in 1997. Unfortunately, we weren't able to find any clips from this appearance so its unclear exactly what David was doing on the show. If you've ever seen an episode of Maury then your mind has plenty of room to wander.