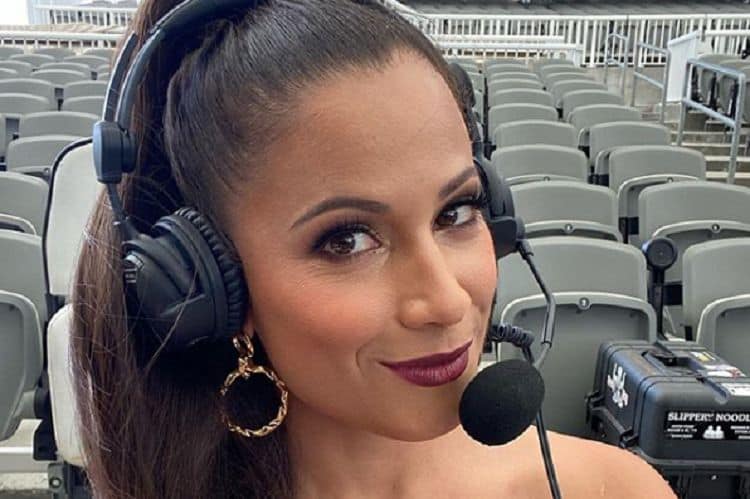 It's only been 5 years since Dasha Gonzalez made her professional debut in the wrestling world, but even in that time she's already established a strong presence. Although she came into the industry as a wrestler, that isn't what she's best known for at this point. Many are most familiar with Dasha for her work as a ring announcer. Unfortunately, she was fired by WWE in the spring of 2019, but she quickly bounced back and she is currently works for All Elite Wrestling. One thing is for sure, no matter what she's doing, Dasha has made it clear that she's always going to give it her all. Continue reading for 10 things you didn't know about Dasha Gonzalez.
1. She's Married
There are a lot of people out there who wish they could have a shot with Dasha, but she is officially off the market. She has been married to Gabe Kuret since 2014 and she sometimes goes by Dasha Kuret. Gabe seems to like to stay out of the spotlight so there isn't much information floating around about him.
2. Her Aunt Is One Of Her Biggest Role Models
Dasha comes from a close knit Puerto Rican family and she has always had an especially close relationship with her aunt Janet. Dasha says her aunt Janet is the matriarch of the family and has always made sure that everyone was taken care of. Although she came from humble beginnings, Janet was able to defy the odds and build a successful career in education.
3. She Loves The Beach
Dasha spends a lot of time working, so when she does get some time off it's only right that she spend it soaking up some sun. She loves to relax outdoors and one of her favorite things to do is hang out by the water. If there's a beach near by, you can almost bet that Dasha will be there.
4. She Says The WWE Asked Her To Tone Down Her Personality
When Dasha was let go from WWE in 2019, lots of people were wondering why. Dasha revealed that it may have had something to do with her personality. During an interview she said, "I was always told I had too much personality and I had to dial it down … I was told it is not about the interviewer; it's about the person being interviewed. So I'm like, what I had a lot of conflict with was, I have so much personality."
5. She Started Her Own Training Business
Dasha has always been a hustler and that's something no one can take from her. According to her LinkedIn page, she worked as a trainer at L.A. Fitness for more than four years. During that time, she also started her own training business called Crowning Fitness which she ran for three years from 2012 to 2015.
6. She Was A Pageant Girl
Long before she even thought about entering the world of wrestling, Dasha was in several beauty pageants. She won a series of local pageants throughout the years starting with Miss Pasco County in 2010. The following year, she won Miss Voulsa County. She ended her pageant career with after being crowned Miss Dade County in 2012.
7. She Studied At UCF
Don't get it twisted, Dasha isn't just looks. She's got a lot of brains, too. Dasha attended the University of Central Florida from 2006 to 2013 where she earned a bachelor's degree in health services/allied health/health sciences. While in college, she was crowned Miss UCF in 2009.
8.She has Always Been Passionate About Health And Fitness
One of the things that attracted Dasha to wrestling was the fact that it combines fitness with entertainment. Fitness is something Dasha has been passionate about for as long as she can remember. She told Wrestling Inc, "Entertainment is one of the coolest things ever. Health and fitness has always been an important aspect of my life. Most of my family was morbidly obese, so I wanted to break that cycle. I wanted to be a role model in the community."
9. She Was A Competitor On Titan Games
Dasha is a fierce competitor, so when she saw the opportunity to join NBC's competition show, Titan Games, she simply couldn't resist. She competed on the show during the second season and was excited for the chance to put her strength and endurance to the test.
10. She Is A Proud Florida Girl
Dasha was born and raised in Orlando, Florida. While most people can't wait to eventually move away from their hometown, Dasha doesn't feel that way at all. She told a local newspaper that she has lived in Orlando for her entire life and she has no intentions of ever living anywhere else.