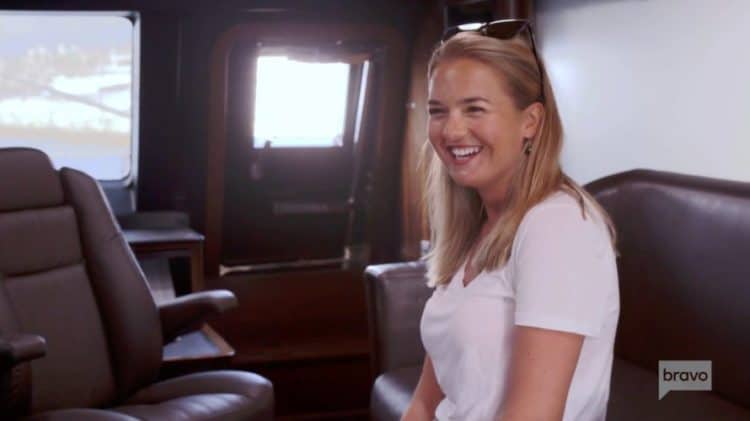 Below Deck Sailing Yacht brought a lot of drama and a lot of good times to television when it aired, and fans are fully invested in seeing what happens with the cast and crew. Daisy Kelliher found herself in the middle of a lot of drama this season, especially as it pertains to Chef Natasha De Bourg, and fans noticed the lack of friendship between the two. It leaves fans wondering if there is more they need to know about the Chief Stew. She's new, and she's making a huge impact on the show and the people around her. Here's everything you need to know about her.
1. She's a Legacy
What does that mean? It means that she's not a first-generation yachtie. Kelliher's grandfather is actually an Olympian. He was an Olympic sailor in Ireland back in 1964. The entire family, so it seems, has been involved in the world of yachting at one time or another, and it's made her a legacy. Her parents and her uncles and aunts have all had a part in the same world she's currently in.
2. She's A Good Time
She's Irish, and now we wonder if we need to elaborate. Her heritage involves drinking like a champ, and she is good at that. It also involves being laid-back and having a good time, and she's also good at that. She's just a good time, and she enjoys having a good time in her life.
3. She's Very Opinionated
No one can say that she's not an opinionated woman. She has no problem giving people her opinion and sharing her feelings with anyone when she's in the middle of a conversation, and it's not a character trait that always works out for her. For example, she and her headstrong chef often butted heads during filming. It just goes to show that sometimes two opinionated and headstrong women cannot see eye-to-eye.
4. She's Young
The Dublin native is only 33, though she's lived a life that makes her seem like someone much older. She's had a long professional career, and it is difficult to believe that with her long list of accomplishments she's this young. She's Chief Stew, and she's good at what she does.
5. She's Close to her Dad
It was her dad's influence that got her into the career she's chosen for herself. He thought she would really like the world of yachting, and she did spend a lot of time on yachts and sailing when she was growing up. She claims that her dad is always right, and that it's been such a good thing for her to join this world. She's very close to her dad, but she's also close to the rest of her family.
6. She's Currently in Antigua
She's not on a boat at the moment. She's done shooting, so she's spending some time in the islands. She's looking to see what's next for her in her career, and she's looking to see how she will continue to live her life after this special adventure. Right now, she's just having a good time, though she does plan on returning to Europe at some point.
7. Her Social Media is Private
She might be a reality television star now, but that doesn't mean she's interested in sharing everything about her life with the rest of the world. She is someone who has a lot going on, but she keeps the most private stuff in her life behind closed doors. With a private Instagram, you can request to follow her, but you cannot just see what she's up to otherwise.
8. She's Surprised About her Season
She joined season two of the show as a new girl, but she's shocked by all the sex and all the partying she saw on board. She thinks it might be due to the COVID-19 lockdowns and the virus that is keeping people from spending time together in some parts of the world, and that it might have driven people to be more intimate with their crew mates than they might otherwise be on a normal season.
9. She Says She Doesn't Always Know What's Going On
She compared herself to former star Hannah Ferrier, and she gave a reason why. "I'm possibly like Hannah, just because I'm running around, and I don't know what's going on sometimes." Essentially, she is always so busy she doesn't always have her hand on what's up in the world around her.
10. She Did Make Friends
While Kelliher might not have a friendship with the chef, she did make some friends on the boat. She has a good relationship with other crew members. She did get to take some fond memories with her when she disembarked.