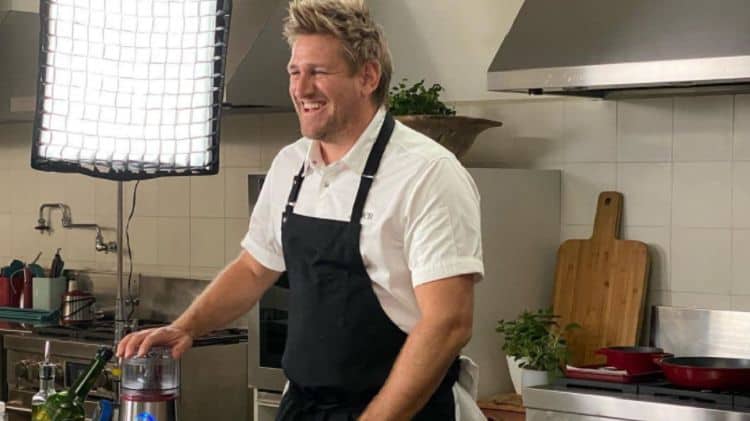 Curtis Stone isn't your average celebrity chef. Although he has spent a lot of time on TV over the last few years, he has never strayed too far away from the kitchen. Cooking is something he simply can't do without, and he's thankful to have made a career out of something that means so much to him. His success in the kitchen has also allowed him to become an entrepreneur and a cookbook author. With each year, it seems like Curtis' brand just keeps growing, and he still has a lot of things he would like to share with the world. If you haven't been following his journey closely, you may end up wishing you did. Keep reading to learn 10 things you didn't know about Curtis Stone.
1. He Started Cooking At Four-Years-Old
Cooking is probably the furthest thing on most four-year-olds ' minds, but Curtis clearly wasn't your average four-year-old. It was at that age that he first developed a serious interest in food and cooking. On his website, he states, "I was 4 years old, just a little tucker, when I had my first, truly memorable food experience. I tried my granny's Yorkshire fudge and it was one of the first really sweet things that I'd tasted. I just couldn't get enough of it. Whenever I went to granny's place, from that first taste forward, we'd get busy in the kitchen and make fudge together. It was our thing."
2. He Studied Business
Even though he fell in love with cooking at an early age, becoming a chef wasn't always something he envisioned himself. At one point in his life he was on a completely different path entirely. He went to college to study business but eventually realized that he wanted to focus on cooking instead.
3. He's A Husband And Father
There's no getting around the fact that Curtis' work takes up a lot of his time. However, he always does his best to make sure that time doesn't come at the expense of his family. He is a dedicated husband and father and he enjoys spending as much time with his loved ones as he can.
4. He Has Acting Experience
Typically, when people think about Curtis' on-screen appearances, they think of the times he's been on TV on talk/reality shows. What many don't realize is that he's also had a couple of acting roles over the years. He even had voice roles in both Trolls and Trolls Holiday.
5. He's A Soccer Fan
Soccer is arguably the most popular sport across the world, and in Curtis' home country of Australia, it's especially popular. He has always been a huge fan of the sport and his favorite team is the Geelong Football Club which is based in Geelong, Victoria. It's unclear whether Curtis has ever been a soccer player himself.
6. Marco Pierre White Is His Greatest Influence
Curtis has worked hard to carve his own path, but it hasn't been without the help of other chefs he admires, one of which is Marco Pierre White. In an interview with Oprah.com, Curtis described his relationship with Marco by saying, "I worked for him for eight years. He was the youngest chef in the world to win three Michelin stars. Some incredible chefs came through his kitchens. Gordon Ramsay worked for him; a guy named Stephen Terry worked for him. It was a pretty awesome place to be involved in. … His was the first cookbook I ever read. Marco had this huge reputation for being crazy, you know, working ridiculous hours, and I loved that sort of challenge."
7. He Likes To Listen To Music While Cooking
Some people like quiet when they're cooking, but not Curtis. When Curtis is in the kitchen, he likes to set the mood with some good music. What he chooses to listen to will depend on what kind of dish he's making. If you're the type of person who likes to make a playlist for every occasion, you can probably relate to Curtis.
8. He Loves To Travel
Food and travel have always had an interesting relationship, and some would argue that it's impossible to truly be a great chef if you never travel outside of your bubble. For that reason, travel has always been a very big part of Curtis' journey as a chef. While talking to The Travel Addict, Curtis even said that travel has been his biggest inspiration over the years.
9. He's Passionate About Helping Others
During his years in the spotlight, Curtis has managed to build a large platform and he has used it to do more than cook and entertain. He loves giving back to those in need and has collaborated with several charities including Sea Shepherd Conservation Society and Aid for AIDS.
10.He Doesn't Believe L.A. Has Any World Class Restaurants
Los Angeles is one of the most well-known cities in the world, so most people would assume that it has a great restaurant scene. Curtis, however, argues that the city has no world-class restaurants. Curtis told Eater, "..I think if you talk about the world-class restaurants in New York, then you kind of have to name the top five. When you try and choose the best five restaurants in LA, they're just a totally different style…They're really good restaurants, but if you scooped them up and dropped them in New York City or Chicago, they wouldn't have the attention that they have in LA. I don't know. I'm not here to talk horribly about the dining scene in LA."
Tell us what's wrong with this post? How could we improve it? :)
Let us improve this post!