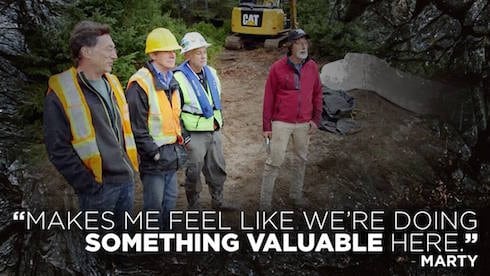 Did I tell you this was going to happen or did I tell you? The dance is officially on. Only a few days back I said it was unlikely that there would be a season 5 of Curse of Oak Island. Now we've got a report that says otherwise? That was awfully fast. RenewCancelTV apparently broke the news shortly before the show aired its "Drilling Down" postmortem on Season 4 earlier in the week. I'm sorry but this is the first time I've heard this. Until I get a 100% valid source I'm still saying the show is up in the air. This is all coming from Starcasm who is interpreting a Kevin Burns quote that we actually had on our site days ago.
I think this is total speculation and reading into things. Nothing wrong with drumming up a little drama but unless a confirmed source comes out and says something the show is still in limbo. Here's the quote I was referring to. "I think you could do 10 years on this show and you could find lots of things and lots of treasure, and I would still not be convinced that's all there is to the story." Burns also spoke of the Lagina Brothers being relentless in their searches.
I've been saying all along because season 4 pulled its highest ratings ever that they'll find a way to have a season 5. However, I'm here to say until Burns or the Lagina Brothers themselves say there will be a season 5 then I'm still sticking with "maybe."
But for the record, I'm sticking to my original call which is "there will be a season 5." They'll find a way. Just don't believe anything until it's official which it is clearly not right now.