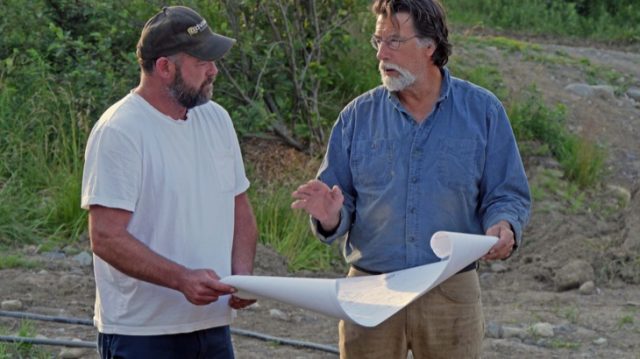 The Lagina brothers are back with another episode of The Curse of Oak Island tonight with "About Face." Last week, viewers were treated to one of the best clues of the year. Over the last 220 years, 6 people have died trying to find rumored treasure. Legend claims that 7 must die before it is found. According to Celeb Dirty Laundry:
On the January 10, 2017 episode, Rick and Marty Lagina, the Michigan brothers spearheading the island's latest exploration, sent a professional diver to the bottom of the island's aptly named, "Money Pit." The pit, originally named for its supposed hidden wealth, has also gobbled up a lot of green from explorers hoping to find gold!
The pit is a 170 foot deep, 40 inch wide shaft that the current exploratory team believes may be the underwater home to stolen pirate booty. When the diver reached the shaft's murky, clay floor his underwater metal detector went haywire.
What transpired after that was an argument and debate over whether or not they would send a diver down there again. In fact the argument became pretty heated as one brother felt there's no way they should send someone down whereas Rick was 100% convinced there was something down there. The answer to this argument is going to be on tonight's episode.
"About Face," will explore what the brothers uncover when they make their return to Oak Island. In all of 220 years in searching for the treasure, "About Face" could very well prove to be one of the most important days in that span. While team members are still stressing over how to proceed with the search, surprising clue in the form of an ancient Micmac Indian relic about the Island and treasure is uncovered.
Here's a sneak preview
New shows air Tuesdays, at 9/8c.