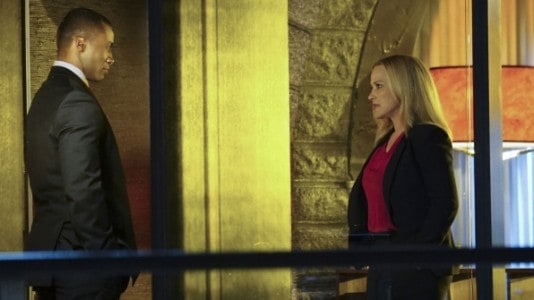 Well, it's that time of year again. That's right, season finales. It doesn't seem that long ago when shows like CSI: Cyber, The Flash, Arrow, Sleepy Hollow, Suits and many others began to return to our television screens and now their current seasons are ending one by one as the summer season slowly approaches. In this photo sneak peek for the upcoming CSI: Cyber season 2 finale (link below), things are about to go from bad to worse at CTOC as millions of employee files are stolen and it's up to Deputy Director Ryan and her team to track down the person responsible for the "largest breach of highly classified data in history".
There will also be some major changes made after Nelson's suit against the FBI was successful, even though it will cost some former Black Hats their freedom, like Raven for one. D.B Russell will also have a decision to make as he ponders a future in Paris with Greer (guest star Kelly Preston). I'm hoping that Ted Danson will return for season 3 if CBS decides to renew the show. He has terrific chemistry with the rest of the cast and it would be sad to see him leave. Perhaps the new season would be placed at a better time slot than 10/9c on Sunday nights. Just a personal opinion, take it or leave it.
I also hope that Nelson can do something to prevent the shutdown of the Hacker-for-Hire program so that Raven doesn't go back to prison. I'm certain that he didn't see this coming when he decided to go behind Deputy Director Ryan's back and sue the FBI. Fingers crossed that nobody gets sent back to jail with the exception of the hacker that stole all those employee files!
CSI: Cyber's Season 2 Finale will air on this Sunday, March 13 at 10/9c on CBS
CSI: Cyber Season 2 Finale Sneak Peek Photos
Tell us what's wrong with this post? How could we improve it? :)
Let us improve this post!