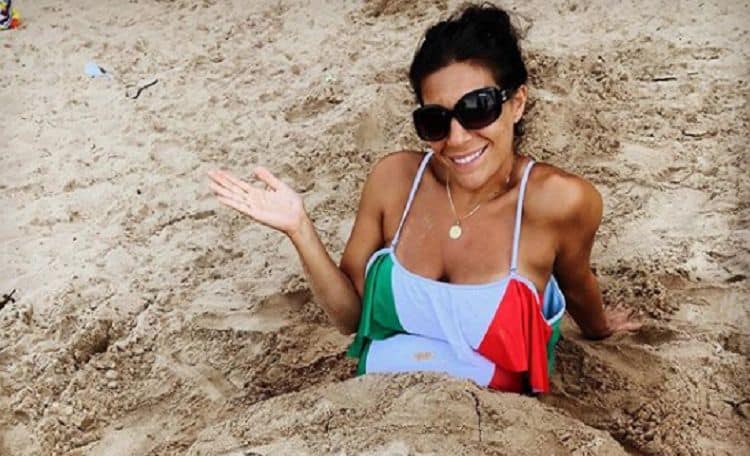 Most people would agree that it's important for mothers and their children to have a close relationship. However, is it possible for that relationship to be a little too close? That's something the TLC series sMothered openly explores, and Cristina Bertolli and her mother are proud to be part of the cast. Bertolli, whose daily routine revolves around the time she spends with her mother, sees nothing wrong with their relationship. In fact, she actually loves seeing her mother multiple times a day every single a day. Although lots of fans think the women taken things a little overboard, there's no denying the fact that their antics are very entertaining. Keep reading for 10 things you didn't know about Cristina Bertolli from sMothered.
1. She's A Dance Instructor
Since sMothered is primarily focused on Cristina's relationship with her mother, we don't get to see a lot about other areas of her life unless they pertain to that. Although she is mostly a stay at home mom, Cristina is also a part-time dance instructor at Turning Point in Elmwood Park.
2. She Makes Personalized Videos On Cameo
Since the show's first season, Cristina has been a fan favorite. Despite the fact that some would consider her relationship with her mom to be a little too close, there's still something about Cristina that many people can relate to. She has capitalized on this popularity by making an account on Cameo where she makes personalized video shoutouts for $25.
3. She Attended Dominican University
Just because Cristina is a stay at home mom doesn't mean that she didn't once have career goals. She was born and raised in Norridge, IL and decided to stay close to home for college. She attended Dominican University in River Forest. We do know that she graduated in 2007, but it's unclear exactly what she majored in.
4. A Friend Of Hers Told Her About The Show
Cristina never planned on becoming a reality TV star, but when a friend told her about the show she felt like it was an opportunity worth taking advantage of. She told the Chicago Tribune, "A friend of mine is a photographer. She got the casting call and forwarded it over to me…I wrote in and told the casting director about my mom and I. My mom and I did a FaceTime interview with him, but we didn't think we would get picked! Then we got a call a few months later that we had gotten picked for the show. "
5. Her Father Passed Away
Cristina and her mom's relationship is clearly very close, but many viewers have also wondered about Cristina's relationship with her dad. Sadly, her father, Joseph, passed away in the fall of 2019. However, judging by photos on her Instagram account, they had a great relationship as well.
6. Her Mom Is The First And Last Person She Calls Every Day
Some people who have seen sMothered believe that the cast members are hyping up their relationships for the sake of TV. However, Cristina and her mom insist that what you see is truly what you get when it comes to them. In an interview, Cristina's mother, Kathy, said that she is the first person Cristina calls every morning and the last person she calls every night.
7. She Was Nervous About Self-Shooting Episodes For Season 2
COVID-19 has shut down production across the entire industry. This means that networks have had to get creative in order to continue to produce new content and many shows have become self shot. Cristina was scared about having to do this for season two and was nervous about how the footage would turn out. She said, "It's definitely hard. There's the lighting factor, the noise factor. We live right by O'Hare airport. You have airplanes flying over. It's difficult to film like the professionals do."
8. She's Very Active On Social Media
Cristina is very active on social media and her follower count has definitely gone up since being on the show. At the moment, she has more than 22,000 followers on Instagram although she has less than 500 on Twitter. She loves engaging with fans about the show and sharing special moments in her life.
9. She Used To Play Basketball
On the show, Cristina hasn't mentioned anything about liking sports or being an athlete, but apparently she used to play competitive basketball back in the day. In April 2020, she shared a throwback photo of her and some of her teammates when she played basketball at Trinity High School.
10. sMothered Has Changed Her Life
When sMothered debut, no one knew how well it would be received, but the show has turned out to be quite a success for TLC. Not only has the show been a fun thing for Cristina and her mother to do together, but it's also changed her life and made her somewhat of a local celebrity.
Tell us what's wrong with this post? How could we improve it? :)
Let us improve this post!