This week, Criminal Minds took a walk down the old dusty trail – The Appalachian Trail. That's where a child killer stalked, kidnapped and imprisoned his victims before eventually killing them and leaving them in the woods along the trail wrapped up in plastic bags.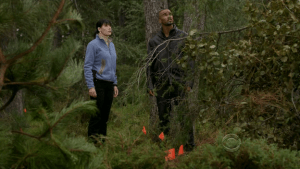 Ana Brooks (Emily Alyn Lind) and Robert Brooks (Gattlin Griffith) were the real highlight of the episode. Both young actors were phenomenal, and if these performances are any indication, the two have bright futures. Camping with their parents at Phinney State Park in Pennsylvania, Robert agrees to go out into the woods in the middle of the night with his sister so she can relieve herself. The two are soon kidnapped by Shane Wyland, serial child abductor/murderer. He locks them up in his mineshaft, and twice leaves Ana alone while he takes Robert elsewhere. The first time, we are not shown where he takes him, but we see Robert return in tears, refusing to tell his sister what happened and only telling her to run as far and fast as she can the next time Wyland comes for him. She does just that, and is able to make it out of the shaft. This time, we see where Wyland takes Robert: he lends him out to be sexually abused in exchange for pills.
Kudos to Dr. Reid, who had some great scenes with Joseph Lanham, the father of a boy named Daniel who had been found in the woods. The scene at the end was especially nice, as Reid was able to hand over Daniel's jacket that was found in the mineshaft.
The BAU wasn't able to apprehend Wyland, but as Hotcher said: "before now, nobody knew there was a pedophile hunting on the Trail, now we know who he is and what he looks like…he's got no place to hide, we've taken that away from him…we'll get him." I have a feeling we may see him resurface in a future episode, especially considering this episode ended with him venturing back into the woods.
The story wasn't a home run this week, but great acting from the children gave the episode just enough to hit a solid ground rule double. Grade: B
Tell us what's wrong with this post? How could we improve it? :)
Let us improve this post!