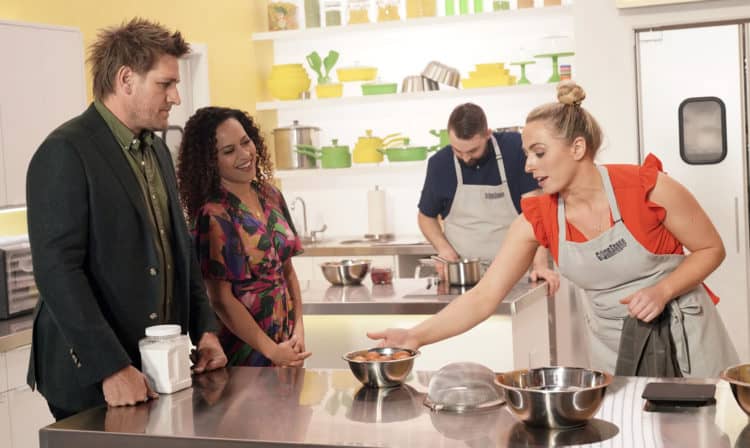 Crime Scene Kitchen is definitely one of those titles that catches people's attention instantly. Although it's not easy to tell exactly what the show is about just from hearing the name, it definitely makes you want to learn more. Half bake-off and half CSI, Crime Scene Kitchen is the first show of its kind. During each show, contestants will compete to see who can make the best dessert. However, the twist is that they'll have to figure out what dessert they're supposed to be making based on clues that have been left in the kitchen. Contestants will have to tap into their inner detective while also putting their cooking skills to the test. Keep reading to learn 10 things you didn't know about Crime Scene Kitchen.
1. The Contestants Are Bakers
There are some cooking shows where the contestants don't have much experience in the kitchen, but Crime Scene Kitchen isn't one of them. All of the people who compete on the show are also bakers in real life. This adds an extra layer of competition because everyone on the show knows their way around the kitchen.
2. The Show Isn't Joel McHale's First Hosting Gig
Most viewers will be familiar with Joel McHale for his work as an actor. He is best known for playing Jeff Winger in the TV show Community. What some may not know, however, is that Joel also has some experience working as a host. He has been the host of the game show Card Sharks since 2019.
3. Contestants Compete In Teams
You know what they say, two heads are better than one. Crime Scene Kitchen will definitely put this theory to the test by having people compete in teams of two. On one hand, working with another person could be very beneficial. On the other hand, things could easily go left if people don't agree.
4. The Show Is Filmed In Los Angeles
Crime Scene Kitchen is filmed at Quixote Studios in Los Angeles. According to The Cinemaholic, "14,000 square feet of studio space is often used for filming commercials, television shows, and movies." We weren't able to find any information on what the process was for putting the set together.
5. There's A Cash Prize At Stake
Let's be real, the prize is always the best part of a competition. When people know they stand a chance to win something good, they're willing to push themselves a little further. Crime Scene Kitchen definitely isn't lacking in the prize department. The winning team will take home $100,000. It's unclear whether each person gets $100,000 or if the two people on the winning team have to split the $100,000 between them.
6. Contestants Come From All Over The Country
When you're putting together a competition, it's important to pick the best of the best. This typically means that you're going to have to search far and wide. That's exactly what producers did for Crime Scene Kitchen. The show features a diverse group of bakers from different areas of the United States including Washington D.C., Massachusetts, and Texas.
7. The Judges Are Well-Known Chefs
No competition show is complete without a panel of judges. Picking the right judges can easily make or break an entire series. Fortunately for Crime Scene Kitchen, it looks like the right choices were made. The judges are cake artist Yolanda Gamp and celebrity chef Curtis Stone.
8. The Show Has A Little Something For Everyone
Cooking shows can sometimes be off-putting for people who don't like to cook or don't know much about the craft. Crime Scene Kitchen, however, won't have that problem. Producer Conrad Green told UPI, "It's [Crime Scene Kitchen] a very accessible show. You don't need to be an expert in foods and baking to be able to understand it. When you see these people searching through a kitchen, we try to make it quite clear, so you can follow their thought processes."
9. There Hasn't Been A Renewal Announcement
So far Crime Scene Kitchen is off to a pretty impressive start. Those who have already fallen in love with the show are already thinking about what the future could have in store. Unfortunately, the show has not yet been renewed for a second season but that doesn't mean that it isn't going to happen.
10. The Show Has Its Own Instagram Account
In recent years, it has become increasingly common for people to want to keep up with their favorite shows in between episodes. Crime Scene Kitchen fans will be happy to know that the show has an official Instagram account. In addition to clips from the show, the account also posts fun activities and updates.
Tell us what's wrong with this post? How could we improve it? :)
Let us improve this post!