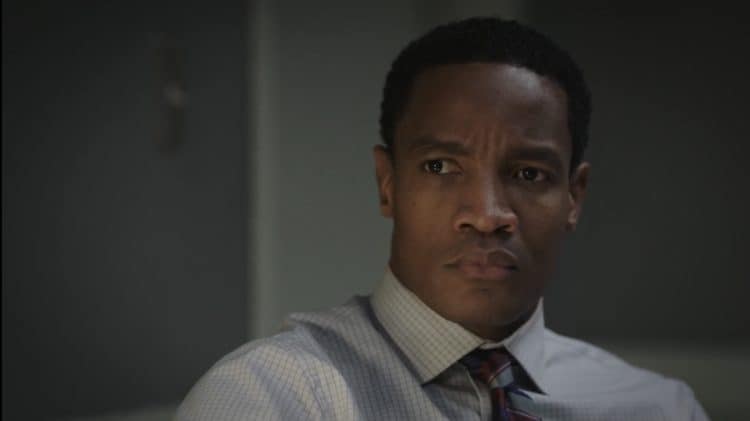 Cranston Johnson's name is one you may not be familiar with, but there's a good chance you've seen his face before. The talented actor has been working hard to forge a path for himself in the entertainment industry, and all of that work is finally paying off. Cranston plays Zumbado in the new TV series Naomi and the role has given him a chance to share his talent with a large audience. Even though Cranston's character is technically one of the 'bad' guys, he does a great job of portraying a complex character who is much more than he seems on the surface. Keep reading to learn 10 things you didn't know about Cranston Johnson.
1. He's a North Carolina Native
Cranston was born and raised in North Carolina. He comes from a close-knit family and is the youngest of three. Once Cranston decided that he wanted to get serious about pursuing an acting career, he knew he had to relocate. He is currently based in the Los Angeles area.
2. He Believes in the Importance of Representation
Naomi is a series that centers around a young Black girl with superpowers. That kind of representation is something people have been asking for for years, and Cranston is proud to be part of it. During an interview with CBR, Cranston said, "The world has many different shapes, sizes, and colors of people, right? Art should reflect that same thing. So to me, it seems like a no-brainer to have a diverse cast because the viewership is diverse and you want to appeal to as many people as you can, to inspire, to entertain, whatever it is. It seems like it would be a no-brainer, but it's not in the industry. A lot of the time, it's heavy-handed on one side. So to be a part of a show where it's multicultural, to me that's exciting, it's inspirational, it's liberating to work with different people from different backgrounds."
3. He Was a College Athlete
Becoming an actor isn't something that Cranston always saw for himself. When he was younger, his life centered around football and he was a very talented athlete. After a successful high school football career, Cranston earned a football scholarship to attend Western Carolina University.
4. He's Not Into Social Media
Now that Cranston's career has really started to take off, there are probably a lot of people who would love to follow him on social media. Unfortunately, they won't get the chance. From what we can tell, Cranston doesn't have accounts on any social media platforms. Perhaps this will change as he gets further along in his career.
5. He Prefers Villains Over Heroes
When most people watch movies or shows, they tend to root for the good guy. However, Cranston is a little different in that regard. While talking to Looper, Cranston said, "I do enjoy the villains moreso than the heroes, I will say that. That's not just the superhero world, that's also in my regular viewing of any show. To me, the antagonist is … It's always a little more interesting to watch because I feel like there are less boundaries that the actor or the actress has to work within."
6. He's A Formally Trained Actor
Despite the fact that Cranston's acting journey wasn't a straight shot, he still found the time to undergo acting training. After earning a bachelor's degree in sports management, Cranston began studying method acting with Burgess Jenkins and the Actor's Group.
7. He's Been In Several Commercials
Film and TV roles aren't the only times Cranston has gotten the chance to be in front of the camera. Early in his career, he also did quite a few commercials. The most notable company he worked with was Verizon. Even though commercials may not be the most glamorous jobs, they are a great starting point for many actors.
8. He's A Big Denzel Washington Fan
Denzel Washington is easily one of the most well-known actors of his generation and Cranston is a true admirer of his work. Cranston told Looper, "Denzel Washington probably is my biggest inspiration. Before acting, and even when I started acting about 10 or 11 years ago, he's somebody that I've always looked to as a bar and as an inspiration."
9. He Auditioned for When They See Us
Cranston auditioned for the Netflix miniseries When They See Us which was released in 2019. Although he didn't end up being cast in the project, he still managed to capture the director's, Ava DuVernay, attention. Not being cast was probably a bummer for Cranston at the time, but things have still worked out nicely for him.
10. He Would Love to Work With Antoine Fuqua
Cranston has already gotten to work with some well-known people in the entertainment industry, but there are still a few more he'd like to add to the list. Antoine Fuqua is one of the directors he would love to work with. The two actually crossed paths briefly when Cranston was in college and was an extra in a music video.