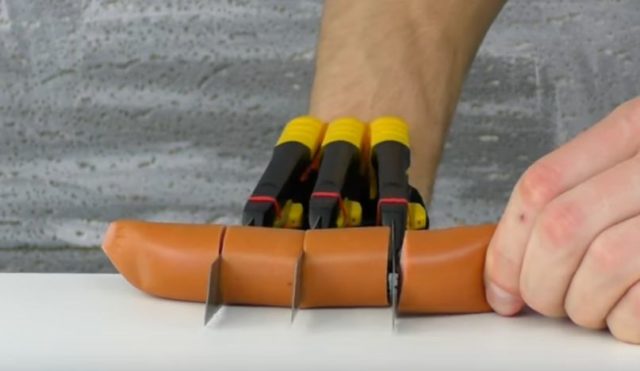 While we're not quite at the adamantium phase of cosplay, one fan of Wolverine just stepped it up a notch by creating a DIY Wolverine claw with actual blades. Call me crazy but the idea of cutting a hot dog by use of the strapping of three box cutters to my hand isn't very appealing. Still though, what if this is first step in the evolution of an actual Wolverine claw? Think about it. Science is already working on the Iron Man suit and you gotta figure we're within 10-20 years of that being a reality. Who's to say we can't have actual Wolverine claws in our military? But let's just start with this video from The Q.
In this video I show you how to make really cool automatic wolverine claws from 3 stationery knifes! Also you need 6 rubber bands, bands and glue! If you decide repeat this project be extremely careful! It's very simple and good awesome looking claws! Also you can open coca cola, cut pizza slice and sausage :)
What could possibly go wrong?
https://www.youtube.com/watch?v=xHYu3oJEKSY