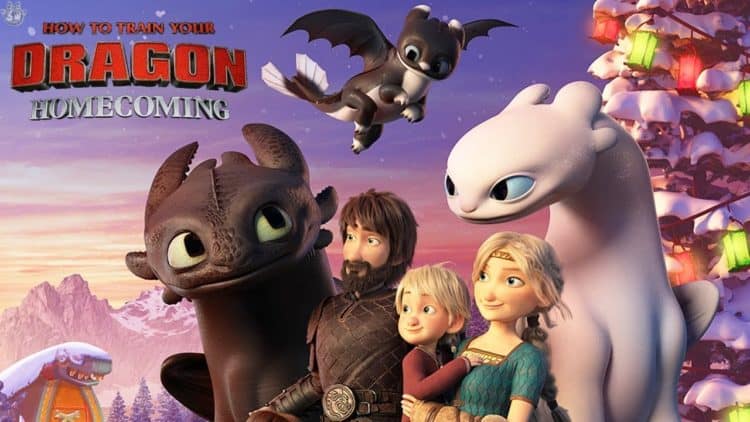 This holiday season we're going back to the Isle of Berk with Hiccup, Toothless, Astrid, and the rest of the How to Train Your Dragon crew thanks to a holiday special titled, How to Train Your Dragon: Homecoming. The 30-minute special can currently be viewed on Hulu and is set 10 years after the end of How to Train Your Dragon: The Hidden World. Homecoming opens with Hiccup and Toothless sharing stories of their special relationship with their respective families as they prepare for the Snoggletog Festival. When it becomes clear that the new generation of Vikings doesn't remember the bond between dragons and humans, Hiccup makes a plan to celebrate dragons with a grand holiday pageant. This heartwarming idea leads to a series of amusing and exciting events. But no matter the circumstance, everyone in New Berk, young and old alike, is reminded that dragons and humans are forever bonded.
The whole cast is back, Dean DeBlois, who wrote and directed all three How to Train Your Dragon movies, is not involved with the holiday special. Instead, Homecoming was written by Jonathan Groff (black-ish) and Jon Pollack (Modern Family) and directed by Tim Johnson (Home). There is also a new composer for the special, Anthony Willis. Willis is no stranger to the animation world, he has contributed additional music to projects such as Wreck it Ralph: Ralph Breaks the Internet, Ferdinand, Rio 2, Despicable Me 2 and How to Train Your Dragon 2 & 3 under John Powell. It is also worth noting that he is the composer of Seasons 6, 7 & 8 of the video game sensation Fortnite. We talked to Willis more about his new score for Homecoming, read below. The score is also now available online.
How many minutes of music did you score for How to Train Your Dragon: Homecoming?
There are approximately 22 minutes of music in the score, the pace of Homecoming is very fast, so there's a lot to cover thematically in that time! The soundtrack is a little longer at 26 minutes because it includes the Dragons Homecoming suite which reprises some of the more special moments from the score, with a focus on the new themes.
You have contributed additional music to the previous How to Train Your Dragon films underneath John Powell. Was the process for scoring this special a lot different because it is a third of the length of the films?
My score is very much a tribute to everything I love about the musical world that John Powell created, and so my overall approach was to emulate the process that I have seen John undertake in the features, reprising existing themes to reaffirm the mythology of our characters, and create new ones for the new emotional aspects of the story. Equally, Director Tim Johnson created some incredible sequences that are very much in the spirit of the features, such as the scenes in the Hidden World, where music and animation are given free rein to tell the story, so I was really able to stretch my legs on those. That said, absolutely, the compressed format of the special overall is very different to the films. Although there's a lot less music, this is a very fast paced adventure with a lot of elements, and so I looked for opportunities to create a cohesive through line, while also supporting the intricacies of each scene, so there was a lot to balance :)
What was the most challenging part of scoring Homecoming?
How to Train Your Dragon is such a beloved franchise, and John Powell's music for the trilogy is some of the most respected in film music. And so, I've definitely lived in fear of disappointing all the Dragon fans who are so fond of his scores, myself included. It's therefore really wonderful (and a great relief..) to see such a great reaction to the Homecoming score.
You have worked on a lot of other animation projects. How did this one differ than those others?
Animation in general is an amazing medium for a composer, but it's exceptionally rare to find yourself writing for a world of Dragons and Vikings (and flying…), one that invites a mythology of Celtic music, majesty, emotional connection, exotisim and soaring themes. It also wouldn't be a holiday movie without a good dose of sleigh bells and celeste, to support the Vikings as they celebrate Snoggletog so that was a fun novelty on this project!
Is there a scene or sequence in How to Train Your Dragon: Homecoming that you composed and are most proud? Can you discuss and reveal why it resonated with you?
There is a beautiful moment towards the end of the special, in which one of the new characters has something of a spiritual encounter. It's an important throwback to when Hiccup first bonds with Toothless, which was such a memorable moment in the first film. I really enjoyed writing this sequence because it gave me the opportunity to pay tribute to this throwback and it's very intimate between the characters, scored with Alto Flute and Ethereal Pop Vocals, before flourishing into a large orchestral climax. This music is featured in one of the album tracks: 'Zephyr Enchanted.'
Can you discuss your score for How to Train Your Dragon: Homecoming. Did you find yourself using certain instruments more than others for this?
Following the dramatic conclusion of The Hidden World, probably the most interesting thing about scoring this film, is the question of what life will now be like for the Vikings of New Berk, and more specifically, Hiccup, and his beloved Nightfury, Toothless. I was very fortunate to have the opportunity to spot the film with John, and director Tim Johnson, who suggested that a new central melody for "Memory' would be a great way to anchor this nostalgic theme. I therefore tried to compose this in such a way that it would evoke the spirit of the musical world that John created, and hopefully integrate effectively with the existing themes that he composed for the trilogy. The Memory theme is featured throughout the score in a number of guises, and is often orchestrated for Alto Flute in the most intimate moments, for its beautiful soulful quality.
Another lovely aspect of this new story, is the introduction of the next generation of Vikings and Dragons, specifically Zephyr, Nuffink and the three Nightlights (Baby Furies). For the Nightlights I had the opportunity to create a new adventure theme, exploring a playful and mischievous palette with Piccolo, Dulcimers, and African Percussion.
Thanks to John's support, I wrote and produced the score at 5 Cat Studios, his state-of-the-art production facility in Los Angeles. The music also features the vocal talents of 5 Cat's in-house songwriters 'Karmina', who performed the ethereal pop vocals to support some of the more emotional and intimate scenes. I was also very fortunate to record the orchestra at AIR Studios, the birthplace of the How to Train Your Dragon scores. The score was recorded and mixed by 5 Cat's in-house engineer John Traunwieser, and so it's very much been a 5 Cat Studios production.
John Powell has scored all the other How to Train Your Dragon projects. How is your score going to be different than his previous works?
John's scores for the How to Train Your Dragon film series are among the most respected in film music, and so it goes without saying that it was a daunting honour to write the music for HTTYD Homecoming. An important theme of this story, is looking back and honoring the past, and more specifically, Hiccup honoring the legacy of his father Stoick, to ensure that the memories and life lessons, explored in the film series, are passed on to the next generation of Vikings. John is likely going to vomit at my drawing this comparison… , (and FYI he's waay too young and agile on the tennis court to be my dad..) but nonetheless, he has played a huge role in my development as a composer. And so, in a sense, much like Hiccup, this score was my chance to honour everything that I have learnt from John over the years (so far).
All that said, try as I might, I'm not John, so there will inevitably be differences along the way, not to mention the new tunes that I wrote for the special. Together with these, there are a lot of Easter egg references to John's themes woven throughout the score, and so I'm really hoping to read about each of these in detail one day on HTTYD Fandom. :) John has been very generous in sharing his process on How to Train Your Dragon 2 and How to Train Your Dragon the Hidden World with me, and so it is my hope that fans of the films and scores will feel well looked after.
You have scored live action projects and animated projects. Is one more challenging to score than the other?
Every score is challenging, mainly to find the right tone to support the film, and the right colors with which to convey it. Traditionally, animation affords a composer a much wider palette, and license, even requirement, for more heavy lifting from the score. It's obviously wonderful to have the opportunity to wear your heart on your sleeve in this way, but this kind of writing when done right is complex and demanding. Equally, live action scores tend to be more minimal and very efficient in their makeup, which requires a slightly different brand of discipline, especially to keep the music interesting and impactful. Live action films often have more realism, and perhaps a little less music (or a balance of score, songs/source music), and therefore they have very specific real estate in the film to establish expectations for the score's role.
All this said, I think some of the most exciting and impactful music for animation breaks the traditional conventions and borrows from more contemporary 'live action' tropes, which can open up new ground for the film stylistically and emotionally. I think there's something to learn from that as an overall rule, when thinking about genre, ie, not feeling that one has to sound like other scores of the genre you're working in before exploring how you could bring something fresher to it.
Tell us what's wrong with this post? How could we improve it? :)
Let us improve this post!