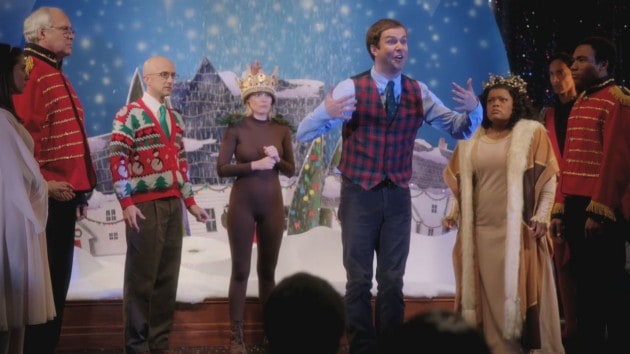 Holiday episodes are something of a tradition on Community – not only are they an excuse for another Dean Pelton-sponsored dance, but they allow the show to step outside its own reality without losing its focus on character, the show's single most important element. However, of the eleven holiday episodes Community's aired over its five seasons, it clearly has a better handle on some then others – here are Community's holidays, ranked from worst to best.
4. Thanksgiving
Episode: 4.5 "Cooperative Escapism in Familial Relations"
Unfortunately, Community's lone foray into turkey-themed television came during the show's Dark Period – and make no mistake, "Cooperative Escapism in Familial Relations" is one of the show's most disappointing episodes, a misfire on all accounts. Anchored down by a tame The Shawshank Redemption homage (with Abed, Annie and Troy trying to escape Shirley's house and family), "Cooperative Escapism" is an unfunny plod through predictable story beats, all while ruining one of the show's most important unseen characters: Jeff's father. Led by a painfully unfunny guest appearance from Workaholics' Adam DeVine, "Cooperative" fails at bringing one of former (and now current) showrunner Dan Harmon's most protected off-screen characters for a meaningful reason, a limp Thanksgiving story derailed by a case of Unfunny Brita, and far too much attention on superficial antics.
3. Valentine's Day
Episodes: 1.16 "Communication Studies", 2.15 "Early 21st Century Romanticism"
There hasn't been a Valentine's Day episode on Community in some time; and it's probably a good thing, because Britta's fake lesbian adventures and Jeff's pursuit of Michelle aren't shining moments for the series. Sure, "Communication Studies" gives us Jeff and Abed's first bonding session (they get wasted together!), but it's weighed down by too much Chang and a forced love triangle with Jeff, Michelle, and Britta. "Early 21st Century Romanticism" is dominated by Britta's lesbian jokes and an Andy Dick cameo – it's not a bad episode, just one that doesn't pack nearly the amount of emotional resonance with Chang as other, better holiday episodes have done with the Greendale 7.
2. Halloween
Episodes: 1.7 "Introduction to Statistics", 2.6 "Epidemiology", 3.5 "Horror Fiction in Seven Spooky Steps", 4.2 "Paranormal Parentage"
Ok, "Introduction to Statistics" is another Michelle/Jeff episode – but it's also the first episode with Abed as Batman and Britta's creature-themed costumes… plus it's got tripping Pierce (remember "Tell me about the Beatles, Pierce…"?)! And it only gets better from there: the Abba-accentuated zombie story "Epidemiology" and horror-anthology "Horror Fiction in Seven Spooky Steps" are classic Community episodes, homage-filled romps into Greendale surrealism. "Paranormal Parentage" isn't great, but it certainly can't weigh down the middle-season Halloween episodes, some of the show's best homage-heavy episodes – and a pair of half-hours that made the race between the top two spots a lot closer than one might think.
1. Christmas
Episodes: 1.12 "Comparative Religion", 2.11 "Abed's Uncontrollable Christmas", 3.10 "Regional Holiday Music", 4.10 "Intro to Knots"
Let's get one thing straight: "Abed's Uncontrollable Christmas" is not just a beautiful, heartfelt, wonderfully-designed Christmas episode – it's one of the best television episodes I've ever watched, holiday or otherwise (so good, it earns Christmas the top spot on our list by itself). How the show frames its adventure into stop-motion animation through Abed's anxiety about his family leads to the show's single most powerful emotional moment, when Abed's journey ends with a copy of LOST on DVD in his hands. It's a moment that's heartbreaking and deeply cathartic at the same time: what begins as an homage to Rudolph the Red-Nosed Reindeer ends up being Community's version of It's a Wonderful Life.
"Regional Holiday Music", on the other hand, is a much more bitter, divisive episode of Community: however, how the show's cynicism aims itself so directly at Glee's nonsense is wonderful, even if it's a little too dark for its own good. However, it's definitely better than the lackluster "Intro to Knots", which wastes 20 minutes of Malcolm McDowell on a noisy, pointless plot – and although some people enjoy the simple charms of "Comparative Religion", I still think the Taran Killam-featuring "Regional Holiday Music" outshines the small-scale pleasures of the Anthony Michael Hall-enhanced "Comparative Religion".
Photos via NBC