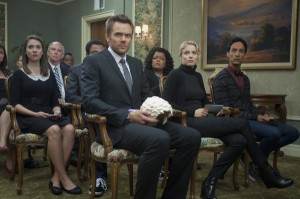 This week's episode was an ode to the racist and brash Pierce Hawthorne…and what an episode it was.
We start with the group sitting down for their daily lunch, where everyone's favorite Janitor (Jerry Minor) finds Troy and again tries to recruit him to the ways of plumbing. Troy agrees to go see one toilet, mostly to get him off his back. Meanwhile, the group makes a surprising discovery — turns out that Pierce is the gay community's new icon, due to his popular Hawthorne Wipes. He unknowingly fuels this status by signing his product for two gay students, not realizing their orientation (side note — I loved the subtle wink that one of the boys threw to Jeff as they left.) Abed does some YouTube research, finding that the popularity of Pierce's product is so huge that a transsexual named Urbana Champaign (RuPaul's Drag Race Shangela) has created a dance music video for it. Pierce at first is outraged, saying he wants to take Urbana Champaign to court for her actions.
As the study group finds out, he soon changes his tune, deciding to embrace his popularity and become a gay activist — in fact, since sales of his product have gone up 7%, he's created a new line called Hawthorne Pride Wipes. He also announces he's hosting Greendale's first annual Gay Bash. Meanwhile, Britta goes on a tangent about the 'Edible Complex" as Jeff tries to connect with Pierce and prove that he doesn't have father issues.
Troy fixes the toilet with the Janitor as he promises, and as he leaves the bathroom he gets 'captured'by the Air Conditioning Repair Annex and brought to Dean Vice Laybourne. Laybourne tells him that he has a natural gift, and he deserves a chance to become the best of the best. He gives Troy and the other students a test to see who can fix an air conditioner the fastest while blindfolded, and Troy is the clear winner by a mile. Vice Dean Laybourne brings him into a secret room (where the air conditioning is so seamless no one can even tell it's on) and attempts to bribe him into joining the school, promising a life of lucrative employment. There's one catch, though — once you're in, you're in. Air conditioning repair will be your life, and a life that can't be shared with outsiders. He gives Troy 24 hours to think his offer over.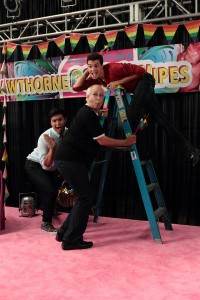 As Pierce sets up for the dance, an old man shows up to talk to him and it turns out he's none other than Cornelius Hawthorne, Pierce's father (nicely played by Deadwood's Larry Cedar.) Pierce brings his father in to meet the group and they find his personality to be exactly like his son — if not worse. He showers them all with racist insults, prompting Jeff to take offense, Britta to get upset, and Shirley to call him, 'the Abed of racism.'Pierce surprisingly admits that he's canceling the Gay Bash and that Hawthorne Pride Wipes are no longer in business. Jeff sees what's happening with Pierce trying to please his father and conform to his views, and tells Pierce not to cancel his party but he refuses to listen.
Jeff of course throws the party anyway, which Dean Pelton enjoys a little too much (I'm just happy we got another costume out of the night.) Pierce shows up upset, but Jeff convinces him to at least stay and have one drink. Pierce ends up enjoying himself, dancing and cavorting while Jeff and Britta continue to butt heads on Jeff's apparent father issues. When Dean Pelton finds a problem with the air conditioning, Troy offers to fix it and as he's doing so, the Janitor finds him, calling him out for wasting his talent with the 'elitist'crowd. Troy gets upset, and not knowing what else to do, he goes to the one person he knows he can trust — his best friend. He asks Abed for advice, Abed and the two have a hilarious back-and-forth conversation (as they pretend to be each other) where Troy eventually admits to Abed what's going on: he doesn't know whether to pick air conditioning or plumbing. Abed, in his no-nonsense way, says to do what makes him the happiest and Troy realizes he already has the answer he's looking for.
Cornelius shows up right as special guest Urbana Champaign arrives on stage and attempts to show Pierce off as the guest of honor. Upon seeing his father in the audience, Pierce freaks and tells everyone that Hawthorne Pride Wipes are no longer representing the gay community, before collapsing of a pretend heart attack (the signature 'Hawthorne'move.) Jeff goes to visit Pierce in the hospital and butts heads with Cornelius about the way he treats Pierce, where he ends up not only defending his friend, but unleashing a multitude of his own issues. As he finishes his rant, Cornelius drops to the floor of a heart attack, but this is no fake-out — he really does die.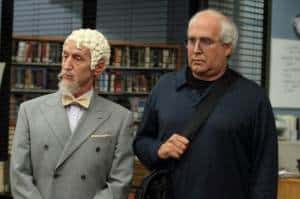 At Cornelius'funeral, Jeff tries to apologize to Pierce for unintentionally killing his father, although Pierce is surprisingly okay with the situation. When he delivers his eulogy, it's in classic Pierce fashion — short, to the point and insulting, so much so that even the study group is appalled. As the funeral ends, Vice Dean Laybourne shows up and tells Troy that he must make a decision about whether or not he's joining his school. Troy stands up for himself, telling him that he doesn't care about being elitist – he'd rather watch television with his friends, and that's what will make him the happiest. Dean Laybourne is clearly upset with this decision, and insists that this battle isn't over.
The end of the episode finds Troy and Abed playing Inspector Spacetime — complete with British accents — while Jeff studies and makes fun of them for acting like children.
Underneath all its humor, the heart of this episode was clearly Jeff's ever-present daddy issues and his on-going battle with wanting to be a father figure to Pierce, despite the fact he would sometimes rather not have anything to do with him. Might this be a prelude to future situations that will cause Jeff to deal with his past? Additionally, although this episode was clearly a Pierce centered story, I loved the Abed and Troy moments that allowed us to see how much they appreciate each other's friendship.
What did you think of the episode? Did you enjoy seeing more of Pierce? Which racial comment was your favorite?