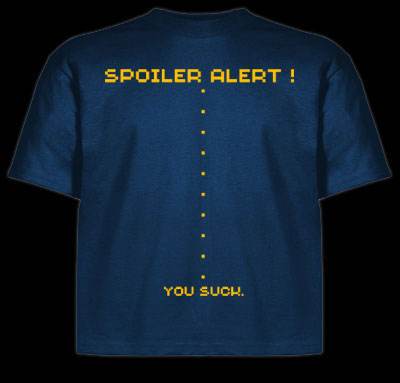 The spoiler. That evil devil that many of my friends love to avoid like the bubonic plague. It has become so infamous that there are entire websites devoted to them and showrunners and movie producers have been known to plant false storylines and script notes to throw the scent off for spoiler hounds. The problem with spoilers isn't that they exist or that people look for them. They have always been here, just not as much. Blame the Internet. The problem is how we come across them and how we perceive them.
Some people perceive episode descriptions, 'Next week on…', news reports, and casting reports as spoilers. While there are no concrete examples for what actually constitutes as a spoiler, one must look at the subject in a '˜logical'manner.
OK, so let's say that you are an entertainment gossip type of person. You frequent sites like E! Online, Zap2it.com, TV Overmind (wink, wink), etc to get your buzz on all things TV, movies, and celebrities on a daily basis. As soon as you log on for the day there is a front-page story about the latest casting in LOST or Grey's Anatomy and you throw a hissy fit because you feel as if your eyes have just been doused sulfuric acid. But one has to ask… should the casting announcement or the rest of the examples I listed above be considered a spoiler?
In short: No.
Why?
Because for years, the list I laid out above has been a part of television viewing. TV Guide wouldn't be TV Guide without the episodic descriptions. If you considered the 'Next week on…'as part of a spoiler, then you should also consider the 'Previously on…'segment of a show as a spoiler as well. Why? Well, the 'Previously on…'segment pretty much sets up what to expect for the following episode by recapping what happened before. In other words, you know that if the recap mentions something from a previous episode then you know that it would most likely come into play in some shape of form in the episode that you are about to view, which could, in a way, spoil the surprise. This also goes for trailers to the upcoming seasons of shows and even movies as well.
Also, social websites, Facebook and Twitter mostly, have helped bring fans closer together than ever before. Some people will update their status on their profile after the latest episode of a certain show airs and might mention something that happened in the episode. Is this considered a spoiler? Most people would say yes, but think about it. It's not. On a forum board, there are spoiler police who penalize people for reporting spoilers or failing to follow procedure when announcing a spoiler depending on that particular forum's rules. On a social site like Facebook, you can't fault someone for announcing their feelings about a certain turn of events on a show, or even a movie at that. You know that you haven't seen the latest episode of LOST, for example, and it just aired like two minutes ago. So why log on Facebook, or any social site, where you have friends from the LOST community who will be airing their frustration, awe, or that they couldn't believe a certain character did a certain act? While it is your God-given right to check your email or chat on Facebook, it is also someone else's God-given right to discuss their feelings about anything, including a show, on their profile. It would make sense to avoid anything that might ruin the viewing experience for you, including Facebook and Twitter, until you actually sit down and view the episode for yourself.
And finally, if the episode has aired then technically anything from that episode is not a spoiler. The weblogs are talking about it. It is watercooler fodder. You just simply missed out and have to catch up. This gets murky when it comes to shows overseas and vice versa. Case in point, I accidentally came across a major plot point dealing with Torchwood: Children of Earth when it premiered here in America. It had already aired in the U.K. and I was on a U.K. based entertainment site that was discussing the events of Torchwood, which to them happened nearly two weeks before the American airing. I could only be mad at myself.
Before I sign off, I would like to say that none of these 'rules'are set in stone. Actually, no matter what anyone says, there aren't any concrete rules about what constitutes as a spoiler. There isn't any book or definitions on the subject. I just think that people could avoid a lot of 'spoilage'if they stopped and thought a little before they 1) attack someone for '˜spoiling'a show that already aired, 2) attack a journalist for doing their jobs by reporting casting news on an entertainment website, and 3) berate someone for discussing the 'Next week on…'scenes, because frankly those cannot be trusted at all.
So I leave you with a couple of thoughts, 1) To be truly spoiler free, you damn near have to leave all things entertainment wise (magazines, social networks, forums) alone or not acknowledge them at all. Do you really think it should be that extreme? And finally, 2) this is mostly to those of the LOST or BSG variety: how do you not know that some of those 'theories'people are throwing around aren't actual snuggly wrapped spoilers? There are some people who are good at theories and there are some who are constantly good at theories down to the most meticulous detail. Ever had a friend who was constantly right on the money? They might be a damn genius or even a pretty damn good spoiler hound. Think about it…
Just my thoughts… ;)
T-Shirt Image is from Tcritic.com and does not belong to me or this site. Here is the link: http://tcritic.com/archives/spoiler-alert-dont-read-this-t-shirt/