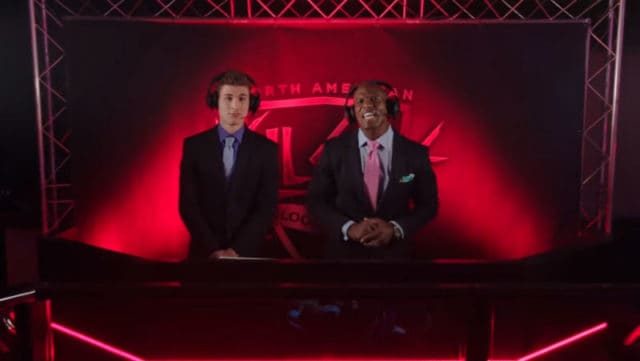 If you know anything about eSports then you know that they've gained a ton of attention in the past decade or so. The number of people signing on to play eSports has been insane, and the prizes that people can win have been going up and up since its inception. Some people might claim that eSports are not nearly the same as live competition and they'd be right, but eSports has its own set of challenges that a lot of people don't seem to know about. It might still be hard to equate an eSport player with an actual athlete, but the attempt to do so is kind of ridiculous anyway.
Terry Crewes will be joining the cast of this feature, which might seem a little odd to some but actually seems very much the norm for Crewes. He's been in so many movies to date either as an extra, a secondary character, or as a main influence that it's really no surprise whenever he pops up anywhere. Plus, he's actually been in a film that featured a type of online gaming. Remember Gamer? He was the psychotic villain that was sent to make Gerard Butler's day a living nightmare, especially since he didn't seem to have an OFF switch until Butler straight up annihilated him.
Anyway, his role in this film will be somewhat less considering that he's a commentator, but he's still a welcome face since he gives a bit more star power to this production. In fact it's fair to say that he'll actually give this film a little more credence as it unfolds.
From the trailer it seems like this movie is going to be a hit. Here's a couple of reasons why.
eSports has a huge following.
Millions upon millions of people either tune in or compete in these tournaments. Since the late 2000's eSports has been amassing followers in droves. Those that can't or don't want to compete in the real world due to their inability or their disdain for the pressure of organized sports can become skilled in another venue that doesn't demand too much of them in a physical manner but relies solely on one's reflexes and their attention to detail. eSports has become its own subculture as players are seen to practice long and hard to master every nuance and detail of the games they play, eventually becoming so good that they can breeze through all but hardest of games.
The prizes are very real.
How much the prize is usually depends on the tournament and the level of play, but often the prizes are enough to make it worth entering and at least trying. Professional players can actually make a good deal of money from playing in tournaments, but often players will join a group in order to maximize their chances at survival in the game so that winning becomes more of a possibility. The world of eSports is highly competitive and often enjoys a "take no prisoners" kind of mentality once the players reach their consoles.
It's a new day, and eSports has taken over as the favored event of the masses.
Save