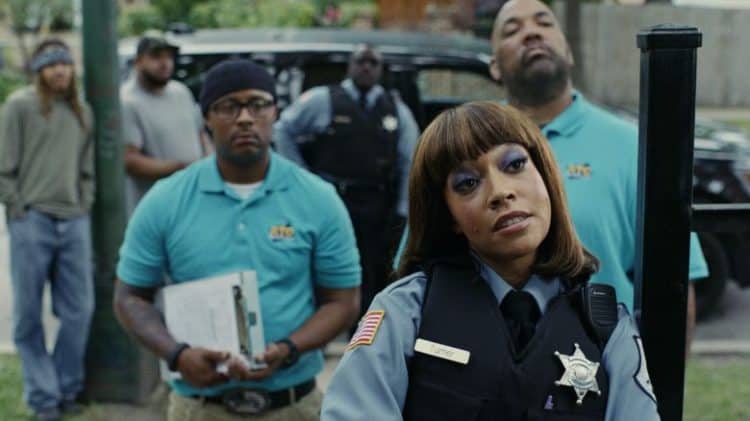 If you grew up on the south side of Chicago, or you just love comedy, then you're probably a fan of South Side already. This hilarious look at life is both irreverent and poignant, which is a hard combination to pull off. Growing up in a rough neighborhood is never easy, but becoming an adult there is even harder. The jokes are just the vehicle for a fantastic show, but they don't fall short. We hope fans find something new to love about their favorite comedy with this list of ten fun facts about South Side.
1. Yes, That's Englewood
The show is set in Englewood. If you're not already aware, it's arguably the worst neighborhood in south Chicago. People in Englewood deal with violence, wildly high crime rates, and yet they're mostly regular people. Fortunately, South Side is helping uplift the area in its own way. The whole show is filmed on-site in the real Englewood. Giving people a chance to see the reality instead of just a sound stage in Hollywood is a fantastic way to make a difference while they make people laugh.
2. The Creators Became Friends in College
Diallo Riddle and Bashir Salahuddin, like many great duos, came together in college. Their shared sense's of humor and need to make friends laugh became a bond that eventually led to this fantastic show. They wanted to make people happy while also reminding the world that there's more than thugs and stereotypes to the south side. To be fair, that's like shooting for the moon, until it happened, and now instead of 'crazy,' people call them 'geniuses.'
3. The Actors
Not every actor on the show is from Chicago, but most of them are. The decision to cast locals was like the decision to film in Englewood. Diallo and Bashir care about the community they're representing. Obviously, making a living doing the comedy you love is also important, but few are willing to take the risks they did with their artistic choices. Using a rent-to-own store as the basis for a show was, perhaps, long overdue for some comedy, but they took it so much further.
4. In the Family
Both Diallo and Bashir are starring on their show. They play Officer Goodnight and a Public Defender. They didn't stop there, however. Sultan Salahuddin is Bashir's brother, and his wife is also in the show. Keeping things close to home is part of what makes this show shine, and while it's by no means autobiographical, they all relate to life in Chi-town. The deeper understanding of what they're representing and bringing into a different light gives this show a boost and uplifts it. While some people would have stopped at funny, they're reinventing people's opinions of Englewood and South Chicago completely with their wit and willingness to give a new take on a place most people don't spend much time thinking about positively.
5. As Soon As It Finished
As soon as filming wrapped up, people were already asking for another season of South Side. It wasn't just the cast who wanted to see it go on. The Chicago Sun-Times praised the show for its humor and brilliance. They were happy to show some love for the clever show and join the voices calling for season two. They were ready for it too. The writing team was already working on ideas for the second season by then.
6. A Very Good Wife
Oddly enough they weren't even working on South Side when another project fell through at the last minute. Instead, they were down in Atlanta working on a show that ended up getting pulled. The concept for South Side was there, but they hadn't tried to pursue the concept yet seriously. It was Bashir's wife Chandra who suggested they shoot a sizzle reel for the show and pitch that. As it turns out, the execs loved the show. Of course, her interest wasn't just in making her husband happy. Chandra is also a writer for South Side in addition to playing a delightfully corrupt policewoman.
7. Millennials Might Not Remember
There are tons of notable cameos in South Side. It's not hard to see why people would happily jump to be seen in such a great show. However, our favorites are the Wayans Brothers. Anyone who grew up in the '90s is familiar with these classic comedy siblings. Maybe it's just our nostalgia, but anything with the Wayans Brothers in it takes us back to a more innocent time when everyone knew that "Homie don't play that." As wildly popular comedy icons, they helped pave the way for South Side. That is appreciation done right.
8. Not Everyone Loved It
The New York Times wasn't as thrilled by the show as the Chicago Sun-Times. They did give it grudging respect on a few points, but overall it clearly didn't resonate with them quite the same. Well, there's no accounting for taste.
9. Diallo Riddle
When it comes to credentials, the writing team on South Side is more than capable. However, Diallo is specially qualified. You might think you recognize his name, and you do. He used to write for Late Night With Jimmy Fallon.
10. Also Familiar
Demystifying and destroying stereotypes has always been the goal of South Side. Workplace comedies are nothing new. Taking one and setting it in such a misunderstood and yet strangely appealing location. People resonate with retail workplace comedies and taking that common experience as a basis for helping to remind people that wherever you live, some things never change.
Final Thoughts
The level of forethought and absolute brilliance in the satire that is South Side cannot be overstated. The gender-balanced writing team and stellar cast could not have been better chosen for the task they set themselves. It's hard to imagine not seeing more of this show on Wednesdays. If you haven't seen the show yet, go binge it now and leave us a comment about your favorite episode when you're done. We'll be keeping our fingers crossed for Season Three.