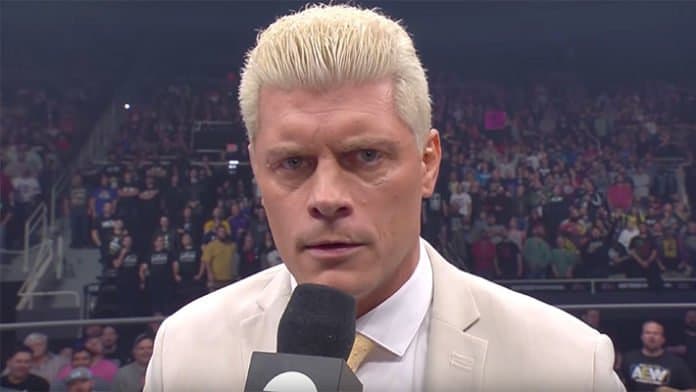 The American professional wrestler, Cody Rhodes, was born, Cody Garrett Runnels, in June of 1985. Rhodes is a professional wrestler who goes by Cody Rhodes, or even just, Cody, in the ring. He not only wrestles, but he is a promoter, an entrepreneur, he's done some acting, and he is currently the executive vice president of All Elite Wrestling. Wrestling runs in the family, as he is not the only Rhode known to wrestling fans. As a matter-of-fact, he and his brother wrestled together as a team for some time. Rhodes has won many championships throughout his career, including three WWE Tag Team Championships, and was a Triple Crown Champion. If you follow wrestling, then probably know who this pro wrestler is, but here are 10 things you didn't know about Cody Rhodes.
1. He changed his name
It's not uncommon for people in the acting, singing or entertainment business of any type, to change their birth name to something more fitting for their career. They want their name to stand out, be recognizable, and give me them an edge-up in their profession. Cody Rhodes was no different, and at the age of 17, he changed his name from Cody Garrett Runnels, to Cody Rhodes, in Charlotte, North Carolina.
2. He changed directions and went Pro after high school
Rhodes was already wrestling in high school and was already proving himself to be successful at it. As a sophomore, he placed sixth in the 171 lb division. During his junior year he won the Georgia state tournament in the 189 lb division, then did the same in his senior year. Rhodes had planned to continue his wrestling on into college, but his path changed and instead, he went straight to professional wrestling. He also attended acting school after high school, which probably gave him an edge-up with his wrestling persona and characters he played during his career.
3. He's not the only pro wrestler in his family
If you recognize the name Rhodes, it could be because there are a few Rhodes' in the sport of wrestling. Cody isn't the only one in his family that made it big in the sport. Rhodes' father is the WWE Hall of Famer, Dusty Rhodes and he has a half-brother who is a former WWE wrestler known as Goldust, who he created a tag team with and won several championships with.
4. He's a comic book fan
Rhodes has talked about his love for comic books as a kid and on into his adulthood, which helped inspire some of the characters he portrayed in the ring. He has climbed into the ring wearing gear from a couple of comic book characters, including, the Archangel and Minister Sinister, which are characters from X-Men.
5. Rhodes has been known to "bag" his opponents, literally
It seems like many wrestlers have a gimmick for their persona that they become known for, and for Rhodes, it was to 'bag' his opponents, at least some of them anyways. Yes, when I say bag, this means that he would literally put a bag on his opponent's head at the end of the match. It must have caught the attention of his fans because he did it more than once.
6. He's face has represented the shaving brand, Gillette
The Gillette company has always used tough, rugged men with strong faces to advertise their razor and shaving brand. According to Fact Snippet, Rhodes was one that was chosen by Gillette in 2009 to become a part of Gillette's advertising campaign, "Be a Superstar," along with Christ Jericho and John Cena.
7. He's married to a ring announcer
Rhodes has been married since 2013, and he and his wife have something in common, wrestling. Rhodes married Brandi Reed Rhodes, who also happens to be involved in wrestling. She is an announcer for WWE and she describes their relationship as one that works individually on their own careers, cheering each other on, as opposed to being a 'team' in the sport. In an interview with Wrestling News, Reed claims that she would love to get in the ring with her hubby and mix things up some, but they keep their work relationship separate. Their first date was to the Halloween Horror Night at Universal Studios, which she said is how she knew he was the guy for her.
8. He's dabbled in TV with a few small roles
Although wrestling has been his main gig, Rhodes has dabbled in TV, taking on several different acting roles and is also well-known as a TV personality. If you're a fan of Scooby-Doo or The Jetsons cartoons, you may have seen the films made of the two popular cartoon series where Rhodes played his character, Stardust. In Scooby-Doo! and WWE: Curse of the Speed Demon, Rhodes was the voice of his character, Stardust, as well as in, The Jetsons & WWE: Robo-WrestleMania.
9. Portrayed a villainous character in wrestling
It's common for a wrestler to take on a character persona to boost their image. Rhode's brother already had one and was known as Goldust. Cody developed his name and began wrestling under the name Stardust, which he developed as a villainous character. The two brothers created a tag-team, and together they won the WWE Tag Team Championship.
10. His Net Worth
There are a lot of pro wrestlers who do well when it comes to their earnings, especially those who branch out and get involved with other ventures in their career, like Rhodes has done with his modeling, television commercials, and taking on other positions in the world of wrestling, such as his role as promoter and most recent position as executive vice president of All Elite Wrestling. According to Sports Keeda, with all Rhodes' has done in his career, it's estimated that he has a net worth of approximately $4 million; a nice chunk of change for doing what he loves.