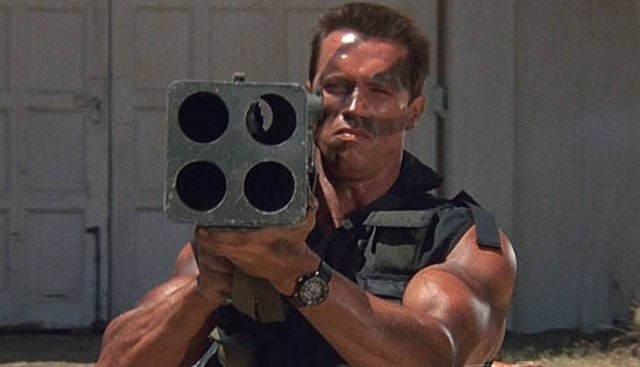 What exactly defines someone as a "one-man wrecking machine?" Well, the definition I'm working with is "the ability to kick a giant group's collective tushies while sustaining minimal personal harm." That's from Websters (except for the tushies part). The ten men (and a couple women) are armies in their own right, and of course there's video evidence to prove it.
So which characters take out armies, terrorist groups, buildings, and other massive organizations in one fowl swoop? Check them out below.
Note: I tried to stay away from known martial artists a-la-Chan, Lee, Jaa, because that's more just the actor, and not the character.
Frank Martin (Jason Statham – The Transporter)
Was there any particular reason that Frank was such a good fighter in The Transporter? I don't think having Formula 1 driving skills automatically makes you a black belt, or else we'd be seeing Michael Schumacher in MMA matches. Maybe he was ex-SAS or something, but the level at which he dominates is unprecedented.
Achilles (Brad Pitt – Troy)
Achilles is quite literally in the definition of a one-man army. In Troy, he was picked as the sole representative for Agamemnon to go head-to-head with a representative from the rival army. First he dispatched a Goldberg-looking barbarian, then later Hector of Troy.
Benjamin Martin (Mel Gibson – The Patriot)
Back before Roland Emmerich was solely making movies about the end of the world, he made a film called The Patriot, which was about as historically accurate to the Revolutionary War as Independence Day was to 1996, but it was still a lot of fun. Benjamin Martin watches as England kills his countrymen left and right, and finally leaps to action when they kidnap his son (Heath Ledger OMG!).
River Tam (Summer Glau – Serenity)
When I first saw the trailer for Serenity, my reaction was an unabbreviated version of "WTF?" But I've since watched Firefly on DVD and now realize how much it totally kicks. And speaking of which, River Tam spent the duration of the show cowering in corners and screaming her head off.
Leonidas (Gerard Butler – 300)
Here's the other Spartan I was talking about earlier, in case you couldn't guess. Sure Leonidas had 299 shirtless (and pantsless) buddies for backup, but I'm fairly certain he could have taken on the entire Persian army by himself if he wanted to.
Maximus Decimus Meridius (Russell Crowe – Gladiator)
I mean come on, the word "Decimus" is his middle name! There are a lot of sword and sandal types on this list, but perhaps none handles a blade more masterfully than Maximus.
Beatrix Kiddo (Uma Thurman – Kill Bill)
The Bride vs. Oren Ishii's Crazy 88 has to be one of the most legendary swordfights of all time. I mean everyone knows "hell hath no fury like a woman scorned," but wow. Here she takes on Elle Driver.