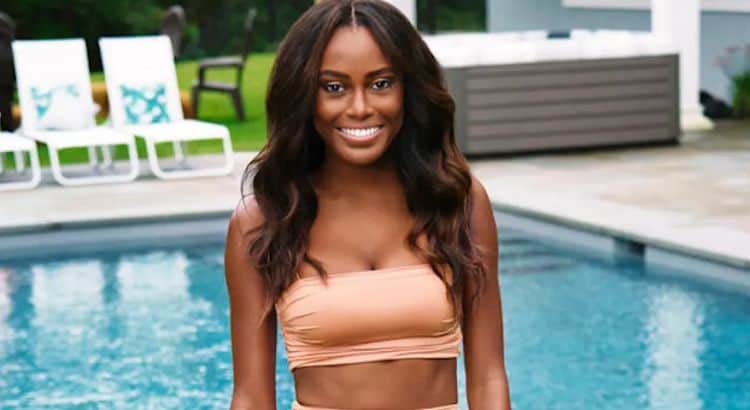 Ciara Miller may not have planned on becoming a reality TV star, but when the opportunity presented itself she was more than ready. As the newest cast member on the Bravo series Summer House, Ciara will make her big debut when the show returns in 2021 for its fifth season. If you're not familiar with the show, Summer House follows a group of friends sharing a summer house in New York. Since people living in close proximity to each other is bound to cause a few hiccups, you can probably guess that there will be plenty of drama on Summer House, but there will also be lots of good times too. Continue reading for 10 things you didn't know about Ciara Miller.
1. She Is An Atlanta Native
Ciara is originally from the Atlanta area where she also began her career. She is very proud of her roots but unfortunately, there isn't much information about her upbringing. Based on the locations she's tagged on Instagram, it looks like she still lives in the Atlanta area.
2. She Is A Nurse
The COVID-19 pandemic has been a stressful time for everyone, especially those who work in the medical field. As an ICU nurse Ciara has been working on the frontlines for the last several months. Despite all of the challenges that come with her job, she loves the field.
3. She Loves To Travel
Becoming a nurse has always been Ciara's dream, but that isn't the only thing she wanted for herself. She also enjoys traveling and thanks to the opportunity to become a travel nurse, she has gotten to live out both of her dreams. Ciara has traveled to places all over the country including Colorado, California, and Louisiana.
4. She Is Into Modeling
Even though she may not have been aiming for a career in reality TV, Ciara has always wanted to be in front of the camera. She has been modeling for the last several years and is currently signed to the Salt Agency. It's unclear whether or not she has worked with any major brands yet. She may be able to use her reality TV opportunity to help land more modeling opportunities.
5. She Supports LGBTQ+ Rights
There are lots of people out there who are afraid to stand up for the things they believe in, but Ciara Miller isn't one of them. She has been a very vocal supporter of LGBTQ+ rights and has acknowledged that she has nothing but love and respect for her loved ones who are members of the community.
6. She Studied At Chamberlain University
Ciara attended Chamberlain University in Illinois where she earned a bachelor's degree in critical care nursing. In an Instagram post celebrating her graduation, she referred to it as "the greatest day ever". In the post she also shared that it was actually her mom who applied to nursing school for her.
7. She Loves Animals
Anyone who has ever had a pet knows that the bond between humans and animals is simply something that can't be explained. Ciara knows this first hand thanks to the love between her and her cat, Jasper. Sadly, her previous cat of 19 years passed away in 2019.
8. She Is A Private Person
There's a common belief that people who agree to do reality shows are also the type of people who love to put all of their business on display. While that is true in some cases, it's not in others. So far, Ciara doesn't seem like someone who likes to share a lot of details about her personal life. While she is fairly active on social media, she doesn't share much about her private life.
9. Her Faith Is Important To Her
Ciara hasn't specifically said anything about her religion, but it's clear that her faith in God is something she holds very close to her heart. In her Instagram bio, she has the Bible verse "Romans 2:11" which essentially states that God does not favoritism. Her faith may be something she touches on more during her time on the show.
10. She Is A Positive Person
It's no secret that life isn't easy. In fact, for many people there are way more difficult moments than there are easy ones. Although Ciara has gone through her share of ups and downs, she has never let them keep her down for long. She does her best to maintain a positive mindset and an optimistic outlook on life. It'll be interesting to see if she's able to keep this energy during her time on Summer House.
Tell us what's wrong with this post? How could we improve it? :)
Let us improve this post!